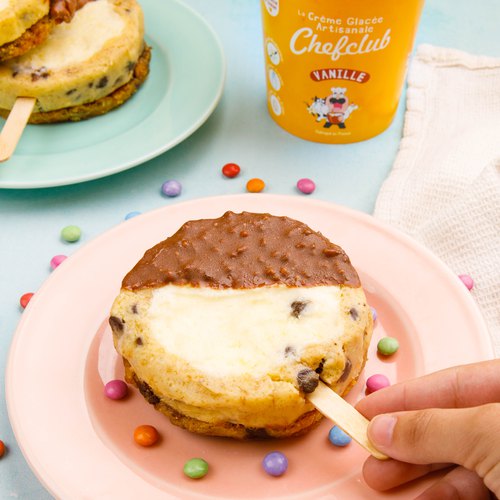 Cookie Dough Ice Cream Sandwich
One dreamy sweet treat 🍫🍪🍦🤩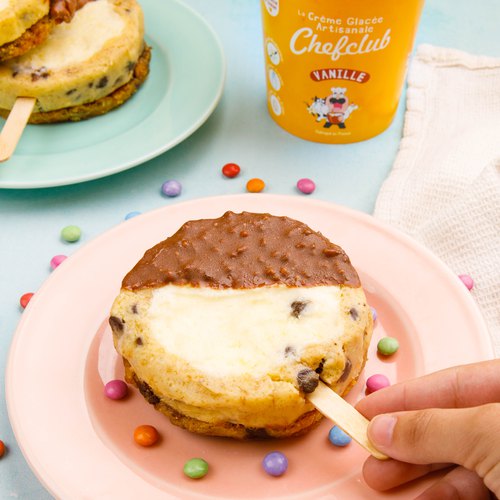 ---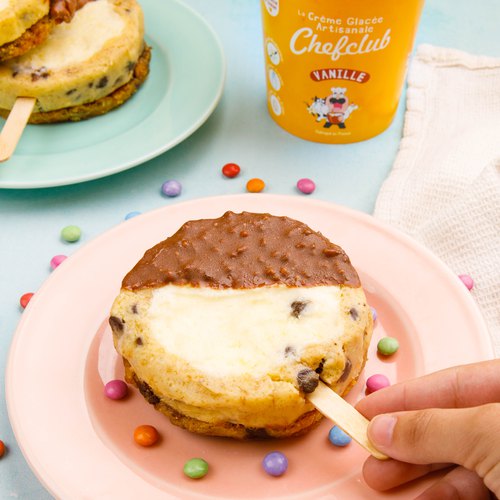 ---
Total time: 45 minutes
Prep time: 20 minutes, Cook time: 10 minutes, Rest time: 15 minutes
Ingredients for 3 people
1 eggless cookie dough
1 pint of vanilla ice cream
caramel sauce
1 normal cookie dough
2 cups of milk chocolate
1/2 cup of almonds
---
Tools
Parchment paper
Popsicle sticks
Shot glass
Circular disk
---
Step 1/3
Prepare an eggless cookie dough and place it on a sheet of parchment paper, roll flat, and form into a long rectangle that measures the same height as your container of ice cream (see video). Stick a spoon deep into the center of the pint of ice cream and remove the cardboard container around it. Roll the ice cream in the cookie dough, pat the edges, and insert 5 popsicle sticks along the top. Cut into 5 disks and set in the freezer.
Step 2/3
Next, prepare your favorite chocolate chip cookie dough recipe, place 5 scoops of the dough on a parchment lined baking sheet, and bake. Remove from the oven, rotate a round disk around the edges of the cookie to give them a more circular form as seen in the video, and press down a shot glass in the center of each cookie to make a small crevice. Pour a spoonful of caramel sauce in the center of each cookie and set aside.
Step 3/3
Mix the melted milk chocolate with the chopped almonds, set the cookie dough lollipops on top of the cookies, and dip half of the ice cream lollipop in the melted dark chocolate. Serve immediately or freeze for later. Enjoy!