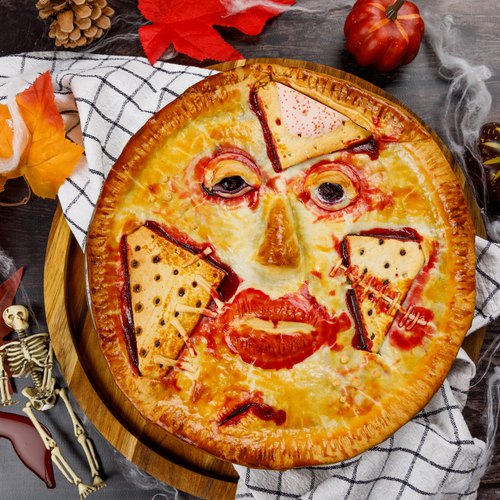 Face Pie
Let's face it, this is perfect for Halloween 🎃👻🥧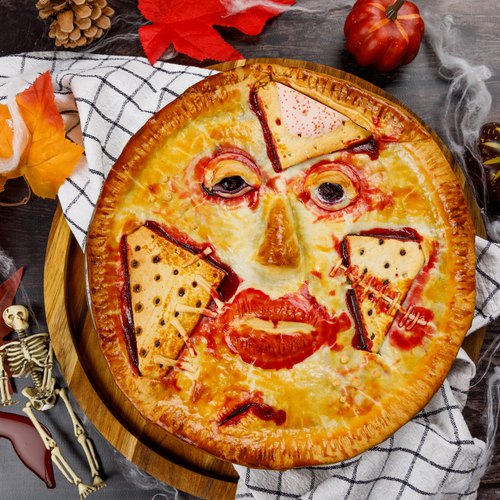 ---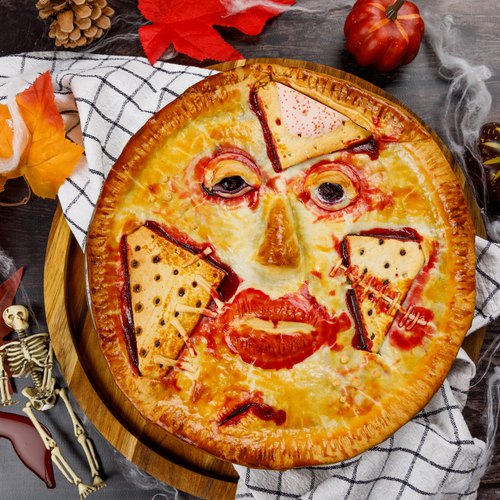 ---
Total time: 2 hours 15 minutes
Prep time: 45 minutes, Cook time: 1 hour , Rest time: 30 minutes
Ingredients for 8 people
7 cups of frozen berries
1 cup of sugar
2 tsp of lemon juice
5 tbsp of cornstarch
6 wildberry pop-tarts
2 sheets of pie dough
1 granny smith apple
2 blueberries
1 egg
red food coloring
---
Tools
Electric kettle
Pie pan
Pastry brush
---
Step 1/3
Prepare the berry pie filling: In an electric kettle or a medium sized pot put the berries, sugar, and lemon juice. Once the berries have cooked down, add in cornstarch and continue to cook until thickened. After, cut 4 pop-tarts in half diagonally, soak briefly in the berry mixture, and place into a pie pan lined with pie dough. Add the berry filling once cool, chop half an apple, and sprinkle pieces on top. Set aside in the fridge.
Step 2/3
Cut out 3 apple slices, 1 for the nose and 2 for the lips, and place them on a plate (see video). Next, cover the plate with a sheet of pie dough, place 2 blueberries for the eyes, and press down dough to reveal details of the face. Add small crescent shape pieces of dough above both eyes, followed by two small thin pieces of dough beneath the eyes. Brush the face with beaten eggs, place 3 triangular pop-tart pieces on the face, and add stitches and warts made of pie dough (see video).
Step 3/3
Add the pie dough face to the top of the pie pan and press down the edges of the dough with a fork. Mix the remaining egg wash with a few drops of red food coloring and brush on the surface to make bloody wounds. Bake 1 hour at 350 °F. Serve and enjoy!