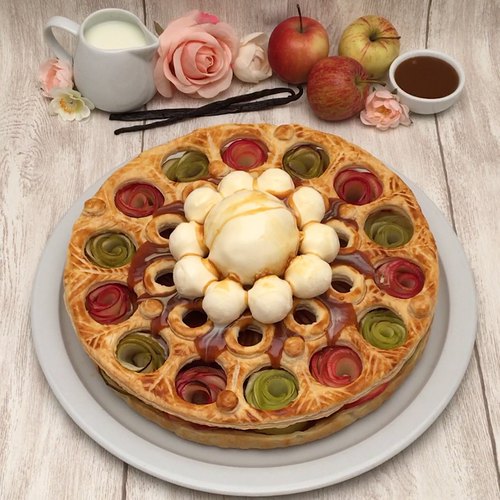 Stained Glass Apple Pie
It's edible art! 🎨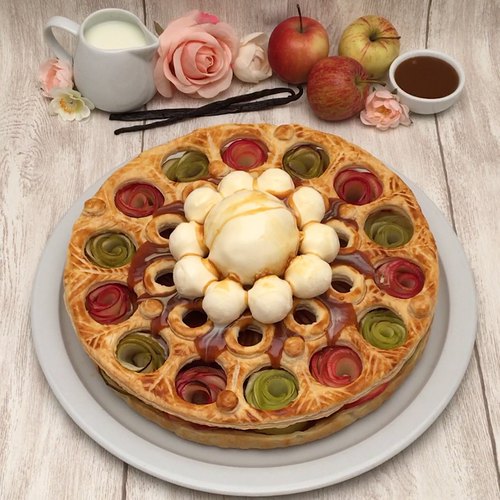 ---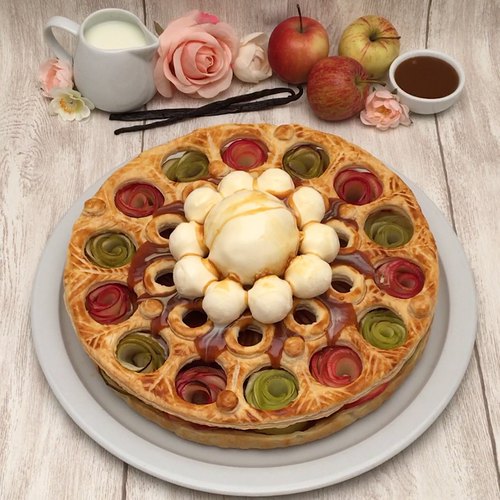 ---
Ingredients for 8 people
2 puff pastries
1 egg yolk
red apples
granny smith apples
1 1/4 cups of apple sauce
1/2 cup of roasted sliced almonds
chefclub vanilla ice cream
salted caramel sauce
---
Tools
Shot glass
Marker cap
Plastic wrap
Pie plate
---
Step 1/4
Place the dough on a lined baking sheet. Using the shot glass, cut out 14 circles of dough along the edge of one of the puff pastries. Place 9 of the circles in front of the holes they left. Using the marker cap, cut out smaller circles in the center of each of the 9 circles. Arrange these smaller circles on the dough to decorate it. Brush the puff pastry with egg yolk. Between the bigger circle cut outs, use a knife to lightly draw leaves. Bake for 30 minutes at 350 °F.
Step 2/4
Cut the apples in half and remove the cores, then cut all the apple halves into very thin slices. Boil the apple slices in salted boiling water for 30 seconds. Let drain. Line up 12 slices of the same colored apple, overlapping them slightly. Roll up the apple slices to form a rose. Repeat with apple slices until you have 7 red roses and 8 green roses.
Step 3/4
Place the second puff pastry in the pie plate, prick with a fork, then spread apple sauce on the bottom. Sprinkle with roasted sliced almonds, then arrange the apple roses around the edge leaving one rose aside. Cut the remaining apples into thin slices and arrange in a circle in the center of the pie. Place the remaining apple rose in the middle. Bake for 40 minutes at 350 °F.
Step 4/4
Cover a plate with plastic wrap. Place one large scoop of ice cream in the middle of the plate then arrange 10 smaller scoops around it. Place in the freezer for 15 minutes. When the pie is baked, top it with the cut out puff pastry. Place the ice cream flower on top. Drizzle with caramel sauce and enjoy!