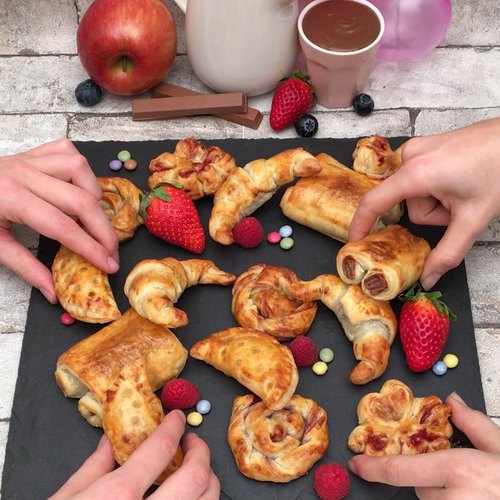 Homemade French Pastries
Bring France to your home :)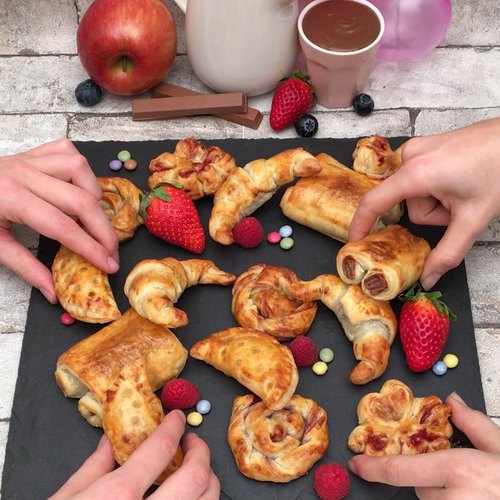 ---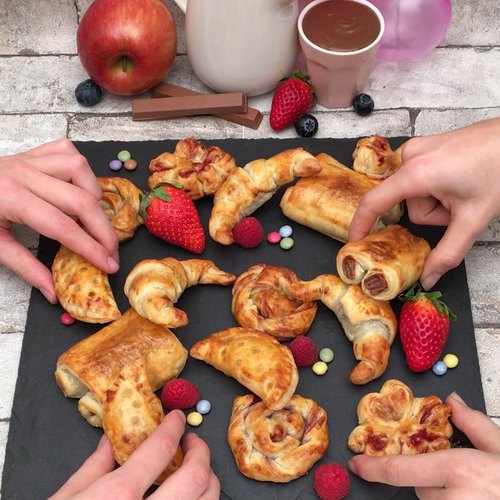 ---
Ingredients for 4 people
2 puff pastries
1 kit kat ®
2 tbsp of blueberry jam
1/2 cup of chocolate hazelnut spread ®
2 tbsp of strawberry jam
1 apple
2 tbsp of apple sauce
1 egg yolk
---
Tools
Straw
Baking tray
Parchment paper
---
Step 1/4
Cut 2 strips 1" wide in the center of one of the doughs. Cut the KitKat ® bars in half, and place 2 at each end of the strips and 2 side by side in the middle of the strips.
Step 2/4
Spread the blueberry jam on one of the remaining parts of the dough and cover it with the last part. Cut this semi-circle into strips lengthwise. Cut the strips with the KitKat ® in 2, passing between the 2 pieces in the center. Wrap the KitKat ® in the strips until they meet in the center. Twist the blueberry strips and roll them up into a spiral.
Step 3/4
Cut 2/3 of the second dough into 6 equal parts and cut 4 discs from the remaining 1/3. Using the straw, remove small circles from one half of each disc. Spread chocolate hazelnut spread ® on half of the pieces and strawberry jam on the others. Arrange apple cubes on the solid halves of the discs and cover them with apple sauce. Fold the perforated part over the compote and press the edges together.
Step 4/4
Roll the chocolate hazelnut spread ® parts in on themselves from the outside to the tip and fold them to form croissants. Roll the three ends of the chocolate hazelnut spread® parts inwards and then bundle them together to form a ball. Turn the ball over and cut 8 notches in it from the edge towards the center. Turn the parts thus formed over by 90° and group them together 2 by 2. Place all the preparations on the baking tray lined with parchment paper, brush them with egg yolk, and bake for 15 minutes at 350 °F. Leave to cool slightly and enjoy!