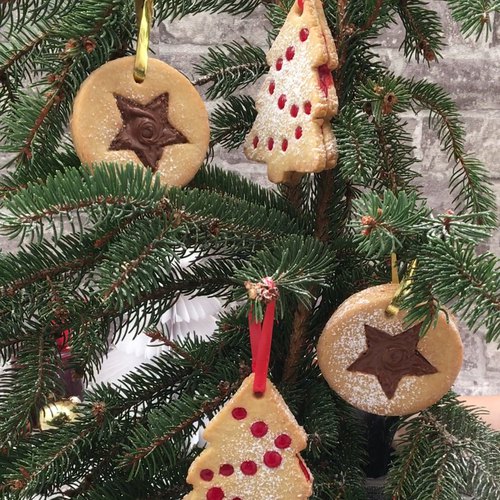 Edible Tree Decorations
Even Santa will be jealous of these!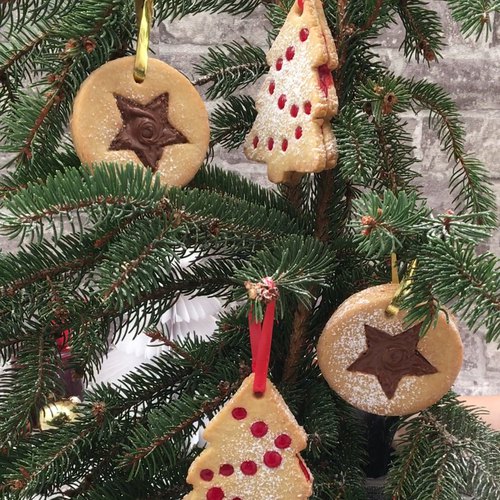 ---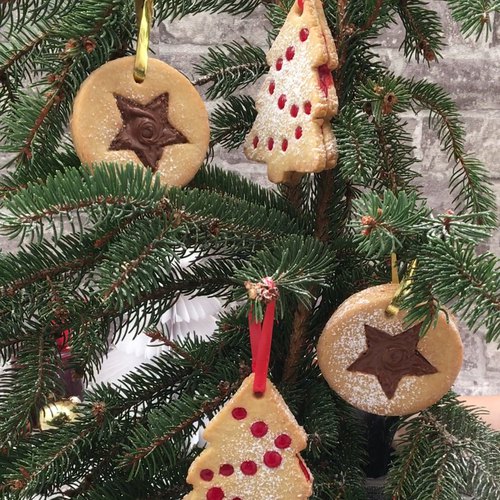 ---
Ingredients for 4 people
2 1/2 cups of flour
1 stick of butter
1/2 cup of sugar
1 egg
1 tsp of vanilla extract
2 tbsp of chocolate hazelnut spread
2 tbsp of raspberry jam
---
Step 1/3
Mix the flour, butter, sugar, egg, and vanilla extract together in a bowl until you have a smooth dough. Use a printed design to cut out a Christmas Tree shape and a star shape.
Step 2/3
Roll out the dough flat until it's 0.5cm thick, and use the tree design to cut out 4 tree shapes. Then use a large glass to cut 4 circles, and cut a star shape from the middle of 2 of the circles. Use a straw to cut circles out of 2 trees, and make a hole in the top of each shape for ribbon.
Step 3/3
Bake the cookies in the oven at 350°F for 15 minutes until golden brown. Add raspberry jam to 2 tree shapes, and chocolate hazelnut spread to the 2 circles. Close the cookies together, then add ribbon through the holes and hang on the tree. Dust with powdered sugar and enjoy your edible decorations!
Similar recipes from Chefclub
-
Our other recipes