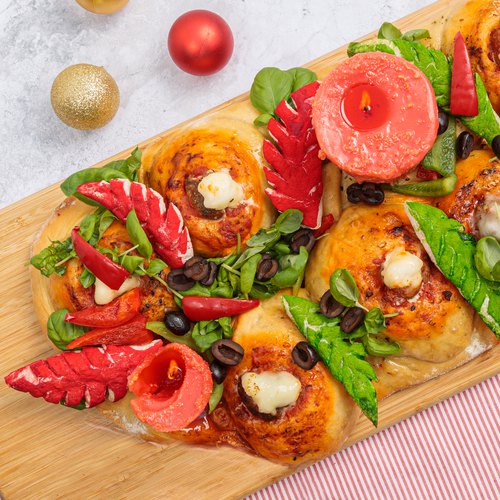 Christmas Bagel Wreath
Christmas Bagel Wreath! And a bonus candle treat 🎅🍕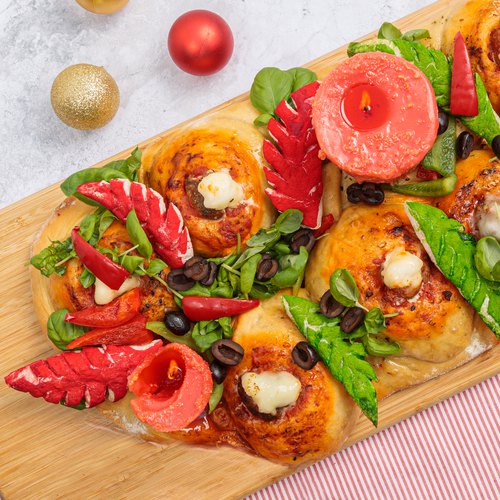 ---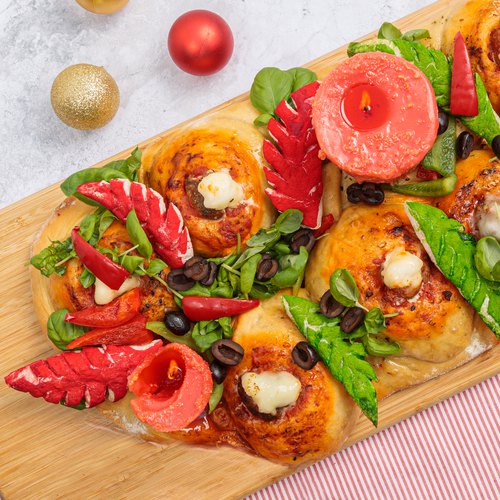 ---
Total time: 3 hours
Prep time: 35 minutes, Cook time: 25 minutes, Rest time: 2 hours
Ingredients for 4 people
1 lb of ground beef
1 egg
1/2 cup of breadcrumbs
Salt & pepper
1 tbsp of oregano
1 tsp of paprika
1 tsp of thyme
1/4 cup of milk
8 cups of pizza dough
1 cup of tomato sauce
Mozzarella
6 cups of butter
---
Tools
parchment paper
Candle wick
---
Step 1/4
Place half of your pizza dough on the work surface and roll out into a rectangle. Transfer to your baking sheet with parchment paper, use the rest to make 8 balls of dough and place on top.
Step 2/4
Spray the bottom side of a glass with non-stick spray and press holes into the 8 mini balls of dough. Put in a little of the tomato sauce for each. Add a meatball and some mozzarella. Season with spices and bake for 25 minutes.
Step 3/4
Melt the butter in a pot. Place in glasses and add a candle wick. Secure with a skewer to keep upright. Freeze for 2 hours.
Step 4/4
Unmold the butter candles and place next to the meatball pizza. Light the candles, dip the pizza in the butter and enjoy!