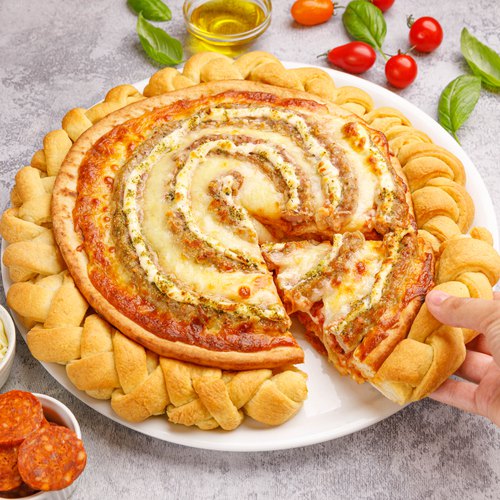 Pimp up your pizza
With a sausage on top! :)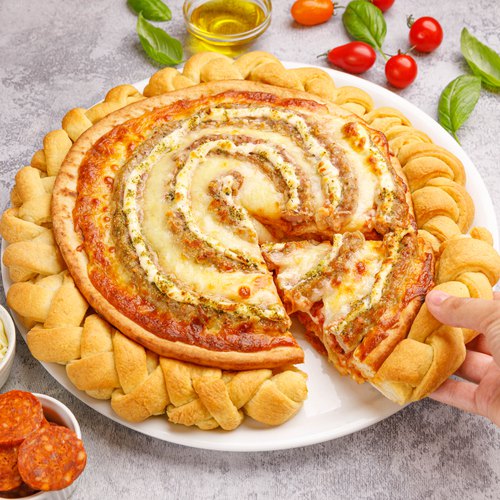 ---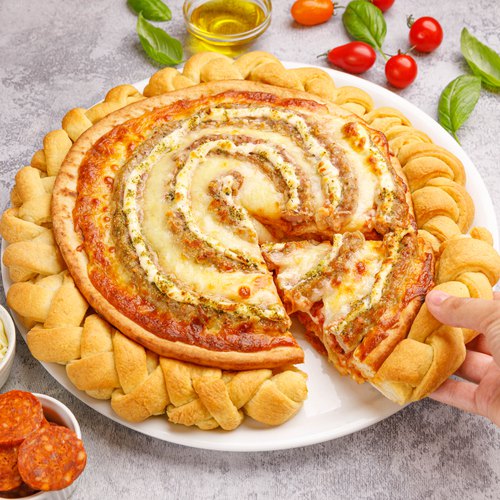 ---
Total time: 1 hour
Prep time: 1 hour
Ingredients for 6 people
pizza dough
olive oil
3/4 cup of tomato sauce
2 1/2 cups of shredded mozzarella
1 mini frozen pizza
6 sausages (casing removed)
5 oz of cream cheese
1 tbsp of chefclub ranch seasoning
basil
---
Tools
Pizza stone
Round baking dish
Plastic bag
---
Step 1/3
Roll the pizza dough out so that it is about 2 inches beyond the size of your pizza stone or pan. Place the round baking dish or plate in the center of the dough. Cut evenly-spaced strips in the exposed dough. Remove the dish or plate, then overlap the strips of dough as shown in the video. With a fork, prick holes in the center of the crust and brush with olive oil.
Step 2/3
Add half of the tomato sauce to the center of the pizza dough, then add 1 1/4 cup of the shredded mozzarella. Place the frozen pizza on top, toppings side down. Then, add the remaining tomato sauce and 1 cup mozzarella to the crust of the frozen pizza. Add the sausage in a spiral on top of the pizza. Form a trench in the sausage with a spoon. Pipe the softened cream cheese into the trench, evenly distribute the ranch seasoning over the cream cheese, then press the sides of the sausage together. Sprinkle the remaining mozzarella around the sausage spiral.
Step 3/3
Bake on a pizza stone for about 20-25 minutes at 350 °F or until the sausage is evenly cooked and the dough is golden. Garnish with chopped basil or parsley. Enjoy!