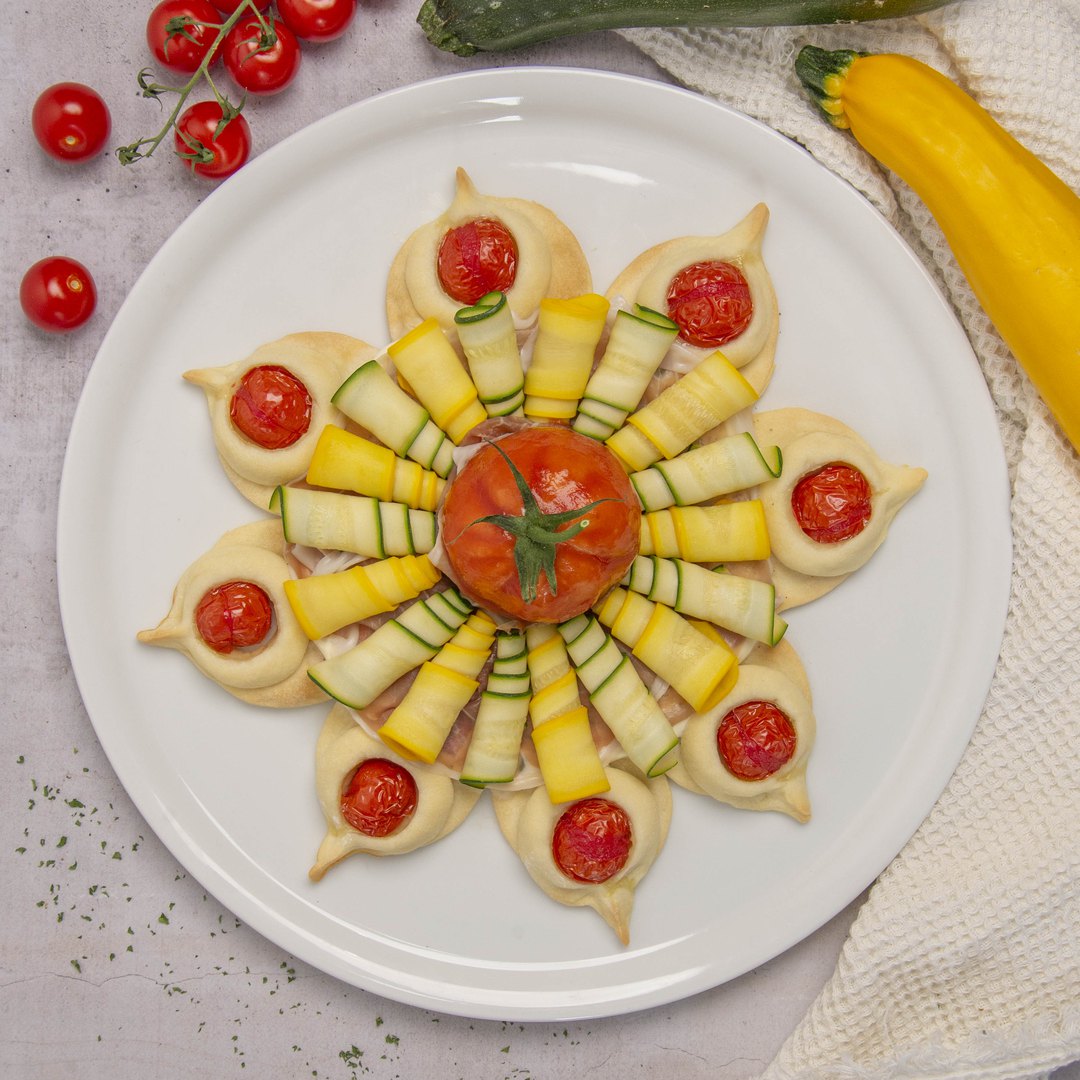 Spring Flatbread
The perfect colorful appetizer for Spring 🥰 🌸
Made by you!
Ingredients
1 mozzarella ball
3/4 cup tomato sauce
1 tsp agar agar powder
1 pizza dough
8 cherry tomatoes
1 tomato stem
1 zucchini
1 summer squash
3 tbsp sour cream
6 slices of prosciutto
Chives
Pepper
Tools
Plastic wrap
Comb
Skewer
1. Drain the mozzarella ball, wrap it tightly in plastic wrap, and freeze.
2. In a saucepan, combine the tomato sauce, 2 tbsp water, agar-agar and let cool. Using a clean comb, score the edges of the pizza dough. Turn the dough out onto parchment paper and place a small bowl upside down in the center. Make 8 cuts up to the bowl spaced around the entire pizza dough. Roll the center of each section towards the center, place 1 cherry tomato and fold the dough around it as seen in the video. Repeat for the other sections. Prick the pastry and bake for 15 minutes at 375 °F.
3. Cut 10 thin strips from each zucchini with a peeler. Boil them in hot water for 5 minutes to soften them. Wring out the strips and roll them at an angle into rolls. Spread the sour cream in the center of the tart, sprinkle with chopped chives, and season with pepper. Place 4 slices of prosciutto in the center, then arrange the zucchini rolls in a circle, and add the last 2 slices of prosciutto in the center.
4. Place a skewer in the center of the mozzarella ball and coat it with the tomato sauce to make it look like a tomato. Place it in the center of the flatbread, decorate with a tomato stem, serve, and enjoy!
Similar recipes from Chefclub