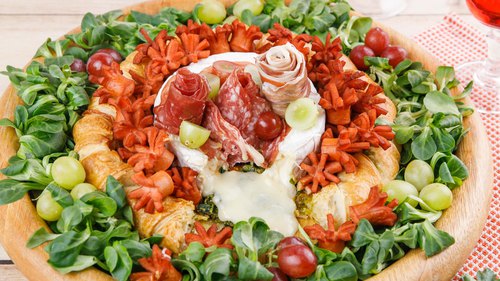 Epic Charcuterie Board
Epic Charcuterie Board! Time to invite your friends and family 🥳🎉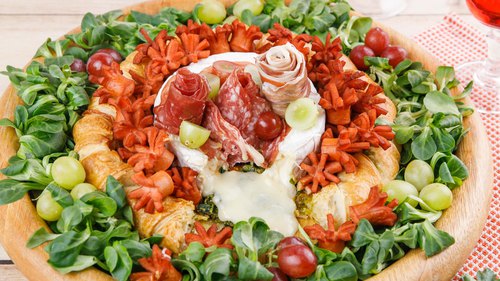 ---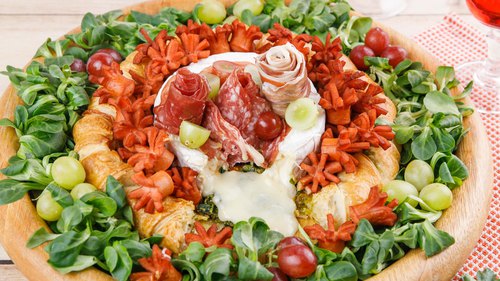 ---
Total time: 45 minutes
Prep time: 20 minutes, Cook time: 25 minutes
Ingredients for 6 people
Butter
1 puff pastry
16 mini mozzarella balls
Egg
3 tbsp of water
6 hot dogs
Vegetable oil
1/4 cup of pesto
1 wheel of brie
6 slices of salami
6 slices of prosciutto
6 slices of bresaola (italian ham)
24 grapes
Herbs
---
Tools
Skewers
Pastry brush
---
Step 1/4
Preheat the oven to 350°F. Heat the frying oil to 350°F. Lightly grease the baking sheet with butter or cooking spray. Place the a circle of puff pastry onto the baking sheet. Add the mini mozzarella balls around the edge, then press the pastry around the mozzarella. Mix the egg and water together in a small bowl with a whisk or fork, then brush the pastry evenly with the egg wash. Place the pastry in the oven and bake for 20-25 minutes.
Step 2/4
Cut each hot dog into 4 pieces, then cut a cross hatch pattern into the top of each one. Add 3-4 pieces of hot dog to a bamboo skewer, then place into the oil to fry. Once cooked, remove from the oil and allow the hot dogs to drain on paper towels.
Step 3/4
Slice the top off of the brie wheel, then create a spiral shape on the top. Stack 3 pieces of salami together and 3 pieces of bresaola (and/or prosciutto). Repeat the process. Fold the pieces to create a flower bud. Cut them in half. Place the folded meats into the spiral on top of the cheese. Add grapes around the meats.
Step 4/4
Once the pastry is fully cooked, remove it from the oven and allow it to cool slightly. Spread the pesto over the middle of the pastry with a spoon. Place the brie over the pesto, then add the hot dogs around the brie. Sprinkle fresh chopped herbs over the top. Enjoy!