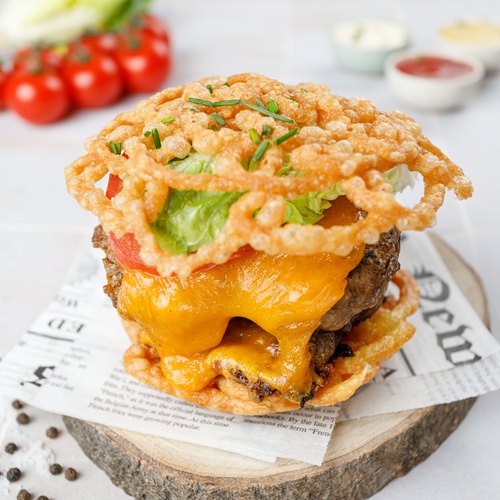 Hash it out breakfast bliss
Wake up happy with this recipe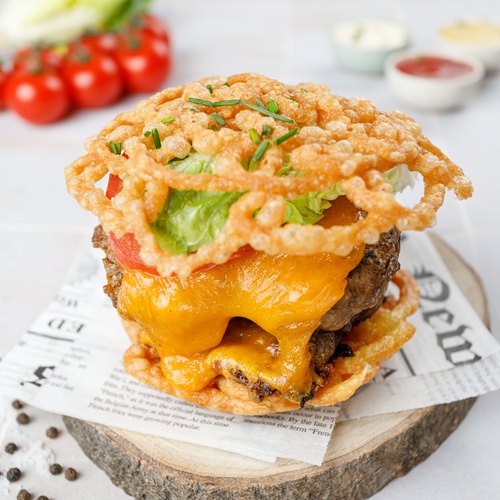 ---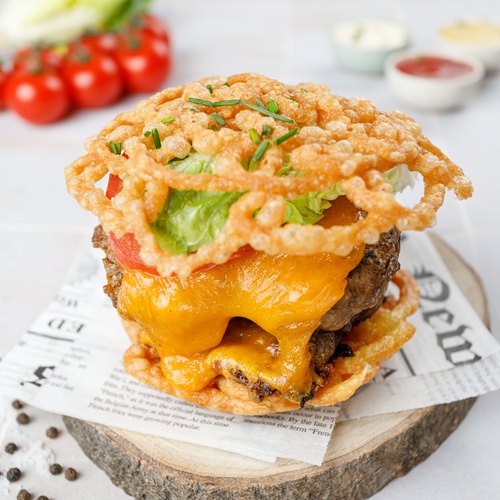 ---
Total time: 30 minutes
Cook time: 30 minutes
Ingredients for 3 people
1/2 lb of ground beef
1/4 cup of worcestershire sauce
5 eggs
1 salt
1 pepper
1 cube of cheddar
1 cup of mashed potatoes
1 1/4 cups of flour
2 cups of water
1 chefclub bbq spice mix
1/2 cup of butter
6 tbsp of caramelized onions
3 tomatoes
1 salad
1 mustard
1 tbsp of vegetable oil
---
Step 1/4
Make your burger patties by mixing in a bowl the meat, 2 eggs, worchestershire sauce, salt and pepper. Form the patties by dividing the meat into 6. Set to the side. Place your saute pan on medium and add oil to heat up.
Step 2/4
In a microwave safe bowl add water and butter, heat up. Add in the flour first, followed by the mashed potatoes. Mix well. Add in the remaining eggs, mix. Pour part of this batter into a ziplock bag and then cut the tip off of one of the edges. Take the batter and pipe into a circle around the bottom of a slotted spoon. Fry in hot oil to cook and repeat on the other side. Reserve.
Step 3/4
Cook the first patty, then add the block of cheddar on top. Cover the cheddar with the other patty and then press down using a glass. Season with ChefClub BBQ spice mix. Place a cover over the top to let cook. Flip patty to cook other side. Add 3 sticks of cheddar on top and continue the process so that it the cheese melts.
Step 4/4
Take the bottom half of the potato bun and place tomatoes inside, then the hamburger, caramelized onions, lettuce, and then the top bun. Squirt your favorite sauce through the holes and enjoy!