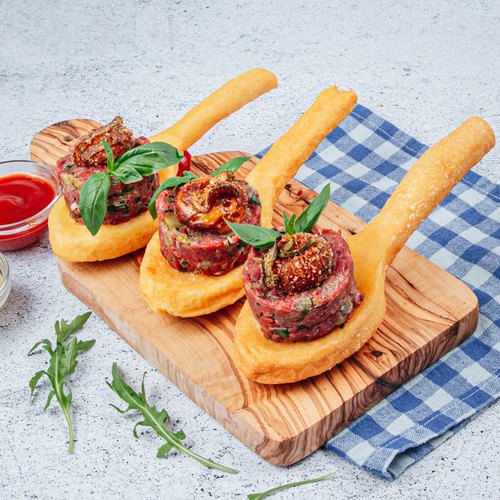 Steak Tartare & Potato Spoon
Steak Tartare & Potato Spoon! Stir things up with this recipe 😁🥄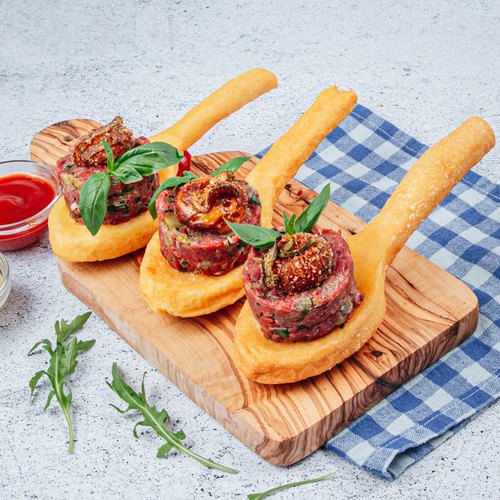 ---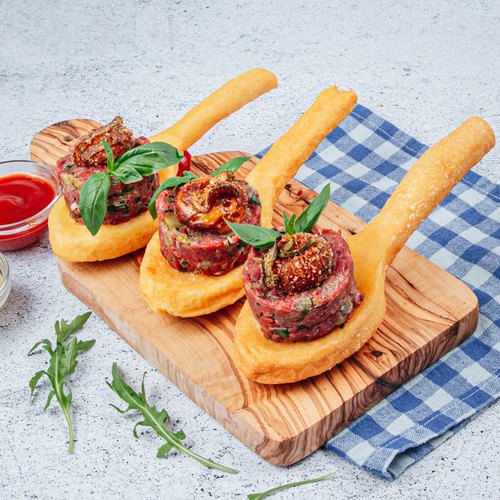 ---
Total time: 30 minutes
Cook time: 30 minutes
Ingredients for 3 people
3/4 cup of mashed potatoes
3 egg yolks
2 cups of breadcrumbs
0.4 cup of sunflower oil
0.4 cup of worcestershire sauce
0.4 cup of vinegar
30 pickles
0.4 lb of beef
30 capers
Onion
Shallot
2 tbsp of mustard
Salt & pepper
Parsley
---
Tools
Cling wrap
---
Step 1/3
Marinate the egg yolks in vinegar and worcestershire sauce for 2 hours. Place in cling wrap with pickles. Remove cling wrap, coat in breadcrumbs and fry in hot oil.
Step 2/3
Mold mashed potatoes around spoons and place in freezer for 30 minutes. Fry in hot oil until golden brown.
Step 3/3
Prepare the beef tartare by cutting the meat and mixing with mustard, capers, pickles, parsley, onion, shallot, salt & pepper. Place the tartare on the mashed potato spoon. Add the fried egg on top. Seve and enjoy!