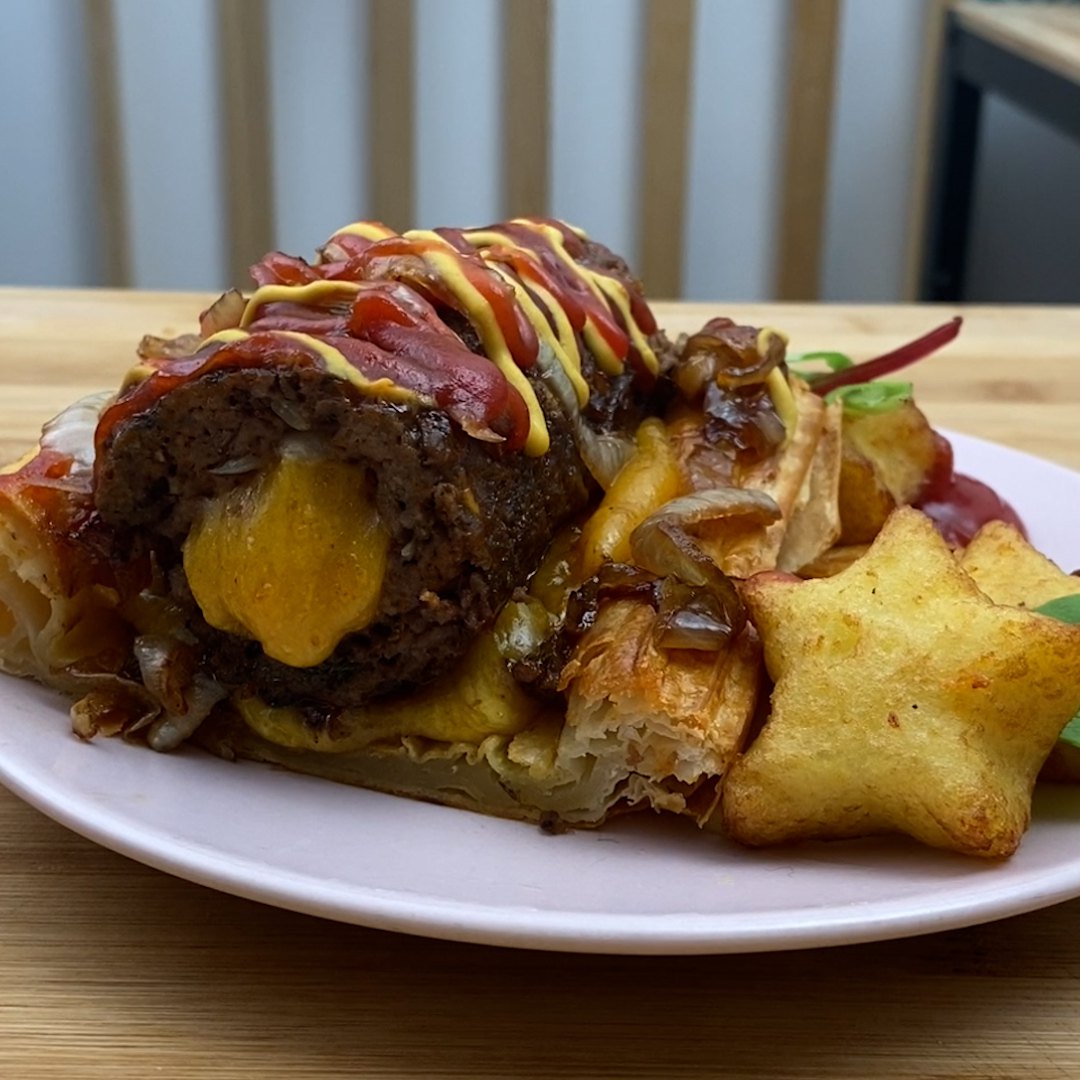 Mega Meatloaf Sandwich
Enjoyed with homemade star chips!
Total time: 45 minutes
Ingredients for 4 people
3 potatoes
5 tbsp butter
1 cup parmesan
3/4 cup cornstarch
1 1/3 lb ground beef
3 onions
1 tsp garlic powder
1/4 cup grated cheddar cheese
Rectangular puff pastry sheet
2 egg yolks
2 sprigs of thyme
1 sprig of rosemary
Salt & pepper
Frying oil
Ketchup
Mustard
---
Tools
1 Pringles can (empty)
Box cutter
Parchment paper
Plastic wrap
Rolling pin
Electric griddle
---
Step 1/5
Cut a star out of the bottom of a Pringles can with a box cutter. Cook the potatoes in water and drain. Mix in the butter, grated parmesan, cornstarch, and a pinch of salt and pepper. Add the mashed potatoes into the can of Pringles, placing the cover on the bottom. Set aside in the fridge.
Step 2/5
In a salad bowl, mix the ground beef, 1 chopped onion, garlic powder, rosemary, thyme, salt, and pepper. On a sheet of parchment paper, spread the ground meat into a large rectangle. Then spread a line of grated cheddar cheese lengthwise, roll up to form a long sausage, and set aside in the fridge.
Step 3/5
Take out the Pringles can and wrap 1 onion in plastic wrap. Then place the onion in the Pringles can and use a rolling pin to help push out the mashed potato stars. Using a knife, cut a dozen mashed potato stars about 1 centimeter thick and set aside in a cool place.
Step 4/5
Cook the beef roll on an electric griddle on each side. Fry the mashed potato stars in hot oil until golden brown and drain on paper towels.
Step 5/5
Cut the puff pastry into 4 rectangles of equal size. Brush the first one with water and place another rectangle on top. Repeat with each layer. Flatten with a rolling pin. Cover the rolling pin with parchment paper and place the puff pastry on top to give it a shape. Next brush with egg yolks and bake for 20 minutes at 350 °F. Chop 2 onions and caramelize in a pan with a drizzle of oil. Take the puff pastry out of the oven and place a layer of caramelized onions on top of the beef roll. Then cover with caramelized onions, drizzle ketchup and mustard on top, and decorate with mashed potato stars. Serve and enjoy!