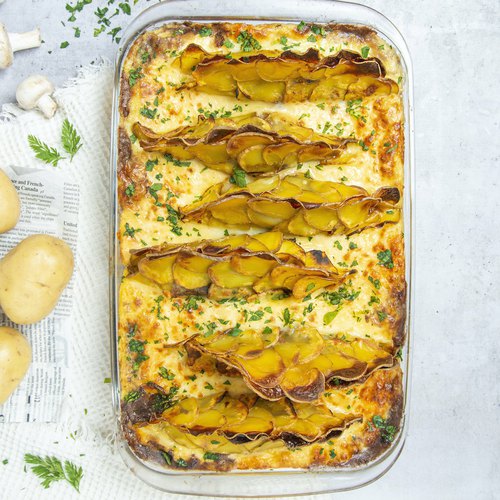 Gratin Bourguignon
A delicious French-style meal 😋😍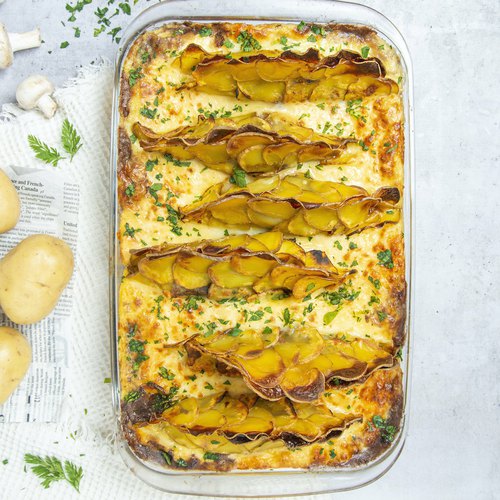 ---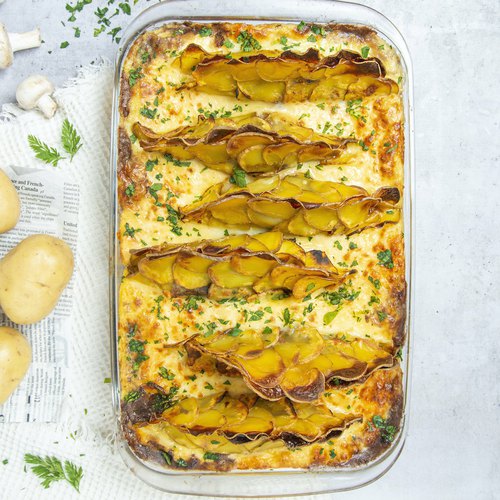 ---
Ingredients for 6 people
11 potatoes
1/2 lb of chuck steak
1 1/3 lb of thick flank steak
1/2 lb of beef cheek
2 carrots
2 onions
1 package of parsley
2 bottles of red burgundy wine
1/2 cup of flour
1/2 lb of smoked bacon
1 1/2 cups of cooked mushrooms
3 tbsp of sour cream
5 tbsp of butter
2 tbsp of nutmeg
2 egg yolks
1 3/4 cups of grated cheese
cloves
salt & pepper
sunflower oil
thyme
bay leaf
---
Tools
Mandolin
Parchment paper
Plastic wrap
Collander
Stewpot
Casserole dish
Plastic bag
Baking sheets
---
Step 1/5
Place the chuck steak, the thick flank steak, and the beef cheek in a large mixing bowl with the sliced carrots, 1 diced onion, parsley, thyme, and bay leaf. Cut the remaining onion into 4 pieces and stick cloves into each quarter and add to the bowl. Pour the bottles of wine into the bowl, add salt and pepper, cover the bowl with cling film, and leave to marinate for 24 hours.
Step 2/5
Strain the marinated meat by pouring the marinade into a bowl covered with a colander. Place the meat in the empty bowl. Pour sunflower oil into stewpot and place the meat in it. Stir, add flour to thicken the mixture, and pour in the marinade. Mix and let boil over low heat. Add the smoked bacon and mushrooms, stir, put the lid on, and let cook for 3 hours on low heat, mixing from time to time.
Step 3/5
Grate 3 potatoes with a mandolin and arrange the thin potato slices in a circle on a baking sheet covered with parchment paper, overlapping them slightly. Make 6 of these circles, cover them with parchment paper, and flatten them with a second baking sheet (you may need multiple baking sheets). Bake the potatoes with the baking sheet on top for 15 minutes at 350 °F. Cook the remaining potatoes in boiling water, about 30 minutes.
Step 4/5
Place the remaining potatoes in a bowl with the sour cream and butter, season with salt and pepper, add nutmeg, and mix the potatoes to obtain a puree. Line the bottom of the casserole dish with the sauce from the bourguignon and a few pieces of meat. Place the mashed potatoes in a freezer bag, cut off the bottom corner to make a piping bag, and cover the dish with mashed potatoes by drawing lines on top of the bourguignon and spreading with a spatula. Fill the potato circles with the beef mix in the center, brush the edges with egg yolks, and fold them in half with the help of the parchment paper.
Step 5/5
Place them in a staggered pattern on the mashed potato dish, pressing them down slightly. Sprinkle with grated cheese and bake for 25 minutes at 350 °F. Cut into slices, serve with a salad, and enjoy!