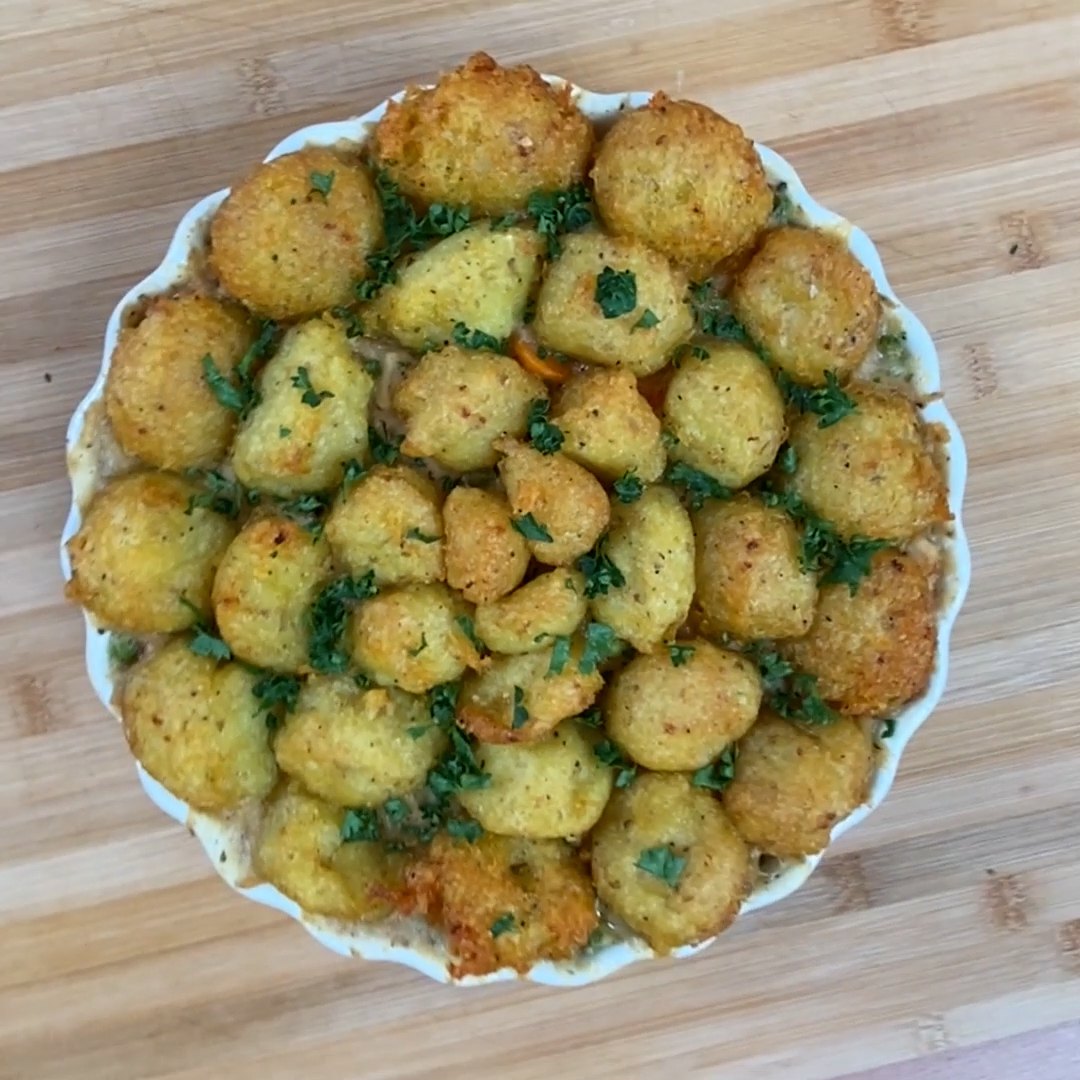 Tater Tot Pie
Chicken pot pie revolutionized 🥧🤩
Made by you!
Ingredients
2 lb potatoes
2 tbsp cornstarch
1 tsp garlic powder
1/2 tsp onion powder
Salt & pepper
1/2 cup jalapeños
Sunflower oil
4 chicken breasts
1 tbsp olive oil
1/2 cup butter
2/3 cup diced onion
1/2 cup flour
3/4 cup milk
2 chicken stock cubes
1 tsp dried thyme
1 1/2 cups sliced carrots
1 1/2 cups peas
Parsley
Tools
Grater
Clean dish towel
Large plastic bag
Paper towels
1. Boil the potatoes in water for 6 minutes. Remove them from the water and let cool 5 minutes. Then grate them onto a clean dish towel. Wrap them up in the towel and squeeze to remove any excess moisture. Place in a bowl and mix with cornstarch, garlic powder, onion powder, salt, pepper, and jalapeños. Place in a large plastic bag and cut 2 small slits in the bag. Prepare hot sunflower oil in a frying pan and squeeze the bag and cut off small chunks the size of tater tots. Fry on both sides until light golden brown and then place on a plate with paper towels. Season lightly with salt.
2. Sear the chicken in a sauce pot with olive oil, salt, and pepper on medium heat. After, remove from pan and place on your work surface to cool. Then in the same pot add the butter and onion and let simmer for 5 minutes. Then add in the flour, milk, chicken stock cubes, and 1 1/2 cups water. Continue to stir frequently and add in salt, pepper, and dried thyme. Lastly add in chopped carrots, peas, and diced chicken.
3. Pour the chicken pot pie mixture into a pie dish and top with tater tots. Bake for 30 minutes at 350 °F. Sprinkle with parsley and serve with a salad. Enjoy!
Similar recipes from Chefclub