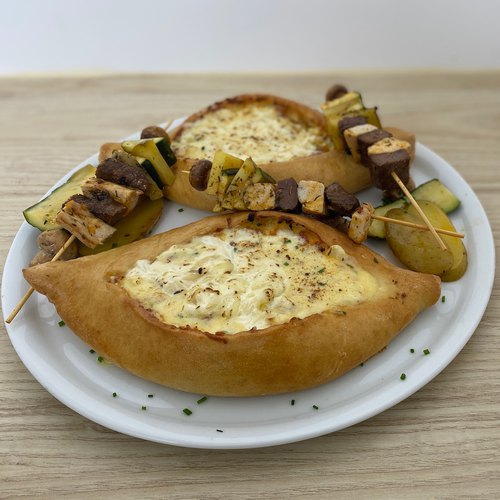 Cheesy Potato Bread & Skewers
The juiciest kebabs you've ever tasted 😋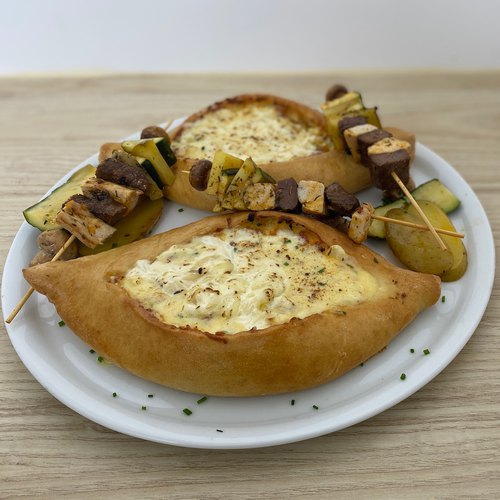 ---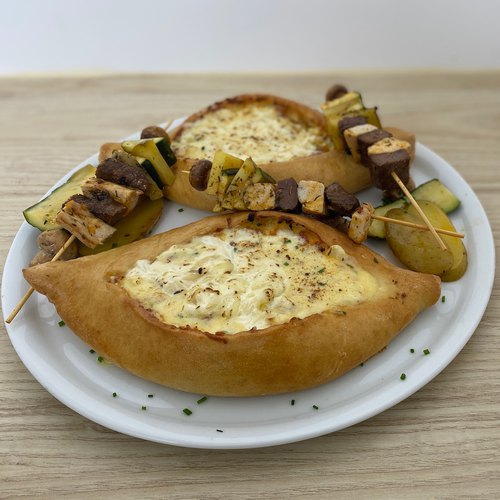 ---
Ingredients for 6 people
3 chicken breasts
2/3 lb of sirloin steak
3/4 cup of olive oil
5 potatoes
2 zucchini
15 mushrooms
2 1/4 cups of shredded mozzarella
2 1/4 cups of grated swiss cheese
6 4/5 fl oz of low fat cream
1 egg
2 egg yolks
2 pizza doughs
chefclub barbecue rub
---
Tools
Skewers
Oven grill
Baking dish
Rolling pin
---
Step 1/5
Cut chicken breasts and sirloin into strips and skewer the ends of 6 strips of meat on the skewer, alternating chicken and sirloin. Repeat for 5 skewers.
Step 2/5
Prepare the marinade: mix the olive oil with the Chefclub Barbecue Rub. Add the meat and marinate for 1 hour. Cover a rectangular dish with an oven rack and place the brochettes between the spaces on the rack.
Step 3/5
Cut the potatoes and zucchini into thick strips and place in a baking dish. Add the mushrooms and place the oven rack above the vegetable dish so that the marinade drips into the dish. Bake for 15 minutes at 350 °F.
Step 4/5
Mix grated swiss and mozzarella cheese with low-fat cream and 1 egg. Top the pizza dough with 4 tablespoons of the cheese mixture. Fold over the sides and seal to form a large turnover. Repeat for the second dough. Place them upside down on a parchment lined baking sheet and make an incision in the center of the dough to reveal the cheese. Bake for 18 minutes at 350 °F. After removing from the oven, form a hollow in the cheese with 1 tablespoon and add an egg yolk to each hollow. Bake for 1 minute at 350 °F. Sprinkle with chives and mix the yolk with the melted cheese.
Step 5/5
Gather the strips by tightening them on the skewer and skewer them with 2 other skewers. Add 4 strips of vegetables, alternating zucchini and potatoes. Add 1 mushroom to the ends of the 3 skewers and cut between each skewer to obtain 3 skewers. Repeat with the remaining skewers and vegetables. Dip the skewers in the cheesy bread and enjoy!