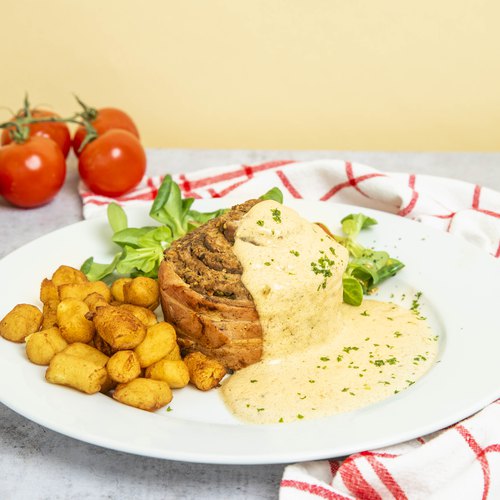 Steak and pepper sauce twist
Steak gets a peppery upgrade with fries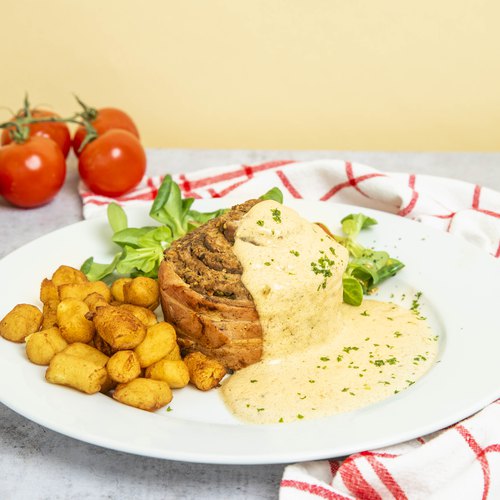 ---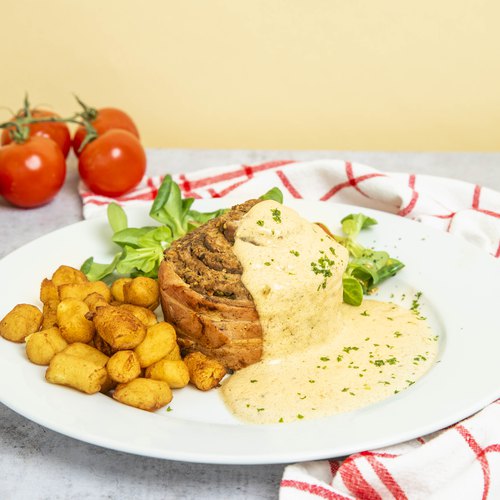 ---
Total time: 30 minutes
Prep time: 30 minutes
Ingredients for 3 people
3 1/2 tbsp of black peppercorns
1 1/3 lb of ground beef
1 cup of butter
6 slices of smoked bacon
3 tbsp of chefclub ground beef spice mix
1 cup of heavy cream
pepper
sunflower oil
cilantro
skewers
1 freezer bag
---
Tools
Jar
Rolling pin
Baking paper
Ice cream scoop
Pizza cutter
Blowtorch
---
Step 1/5
Place the ground beef in a jar, add the Chefclub Ground Beef Spice Mix, and shake to combine. Place the meat in a salad bowl and set aside. Place the peppercorns in a bowl and crush them with the rolling pin. Sprinkle a sheet of baking paper with pepper and flatten with a rolling pin. Use the ice cream scoop to form 9 balls of ground meat on the baking paper. Cover with another sheet of paper and press down to make a paper-sized rectangle of ground meat.
Step 2/5
Use the rolling pin to define the width of the slices and cut them with a pizza cutter, making about 6 strips. Stick a fork in the butter and put it in front of the torch to slightly melt the butter. Use the fork to spread butter over the slices of ground meat.
Step 3/5
Place a skewer at the end of a strip of ground meat and roll the meat on the spike to form a spiral, then roll a second strip around. Repeat until you have 3 ground beef rolls. Wrap the rolls with 2 slices of smoked bacon each.
Step 4/5
Mash the potatoes and place in a freezer bag. Use 3 skewers to make 3 holes in the freezer bag. Hang the freezer bag over the hot oil to squeeze out pieces of mashed potatoes by pressing the bag and cutting off strips to make fries. Drizzle a frying pan with oil and cook the meat rolls on all sides.
Step 5/5
Pour the heavy cream into the leftover cooking juice and season with pepper to make a pepper sauce. Serve the meat with a salad, pour the pepper sauce on the roll, serve with fries, sprinkle with cilantro, and enjoy!
Similar recipes from Chefclub
-
Our other recipes