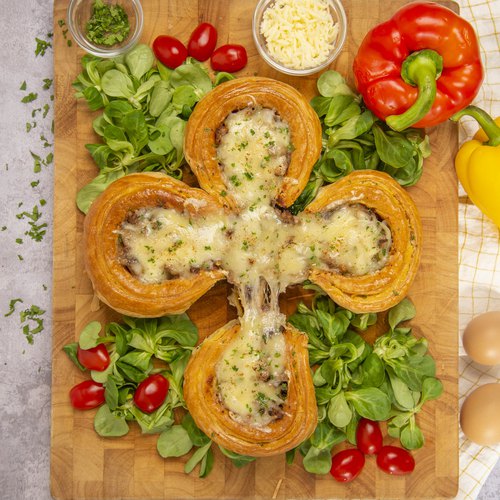 Ground Beef Clover Pie
Paired with homemade mashed potato fries 🤤🍟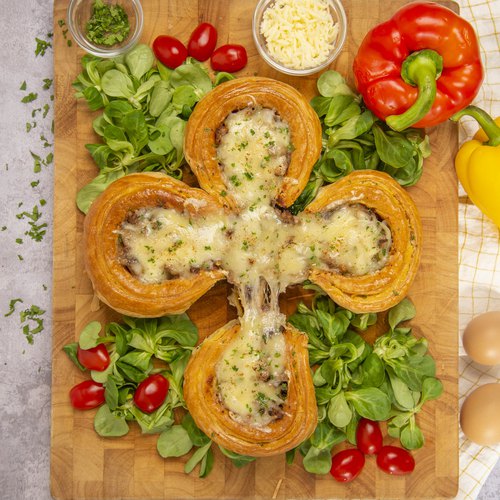 ---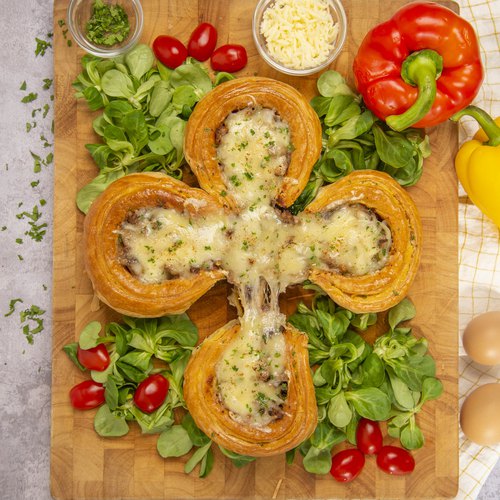 ---
Ingredients for 4 people
1 lb of potatoes
2 tbsp of butter
2 puff pastry sheets
1 red onion
1 green bell pepper
1 red bell pepper
1 yellow bell pepper
3 tbsp of raw cane sugar
1/3 cup of grated swiss cheese
olive oil
chefclub's ground beef spice mix
---
Tools
Chip can
Foil
Parchment paper
Rolling pin
Toothpicks
---
Step 1/4
Mash the boiled potatoes with 2/3 tbsp butter. Cut 2 squares in the bottom of the chip can and place mashed potatoes inside. Use a rolling pin covered in foil to push the mashed potatoes out through the squares into the hot oil. Cut with scissors when the fries are to the length of your liking. Salt and set aside.
Step 2/4
Cut a large rectangle of foil, fold it in half, and roll it around the rolling pin, pinching the end to make a leaf shape. Repeat until you have 4 foil 'leaves'.
Step 3/4
Brush one puff pastry sheet with water, cover with the second sheet, and cut into 5 sections. Place the foil circles on the rolling pin and wrap the dough sections around the foil to give them the same shape. Save the dough scraps and roll out into a square of puff pastry. Place the pastry square on a parchment lined baking sheet, then place the 4 circles of dough on top to form a clover. Brush the area between the circles and the pastry base with water. Cut out the outline of the clover with a knife and remove the excess dough. Prick the bottom of the circles with a fork and surround the outside of the clover with another strip of foil. Use toothpicks to hold the circles together and bake for 30 minutes at 375 °F.
Step 4/4
Cook the red onion and chopped bell peppers in a frying pan with a drizzle of olive oil. Season with salt and pepper and add in the ground beef. Sprinkle with Chefclub's Ground Beef Spice Mix and add remaining butter. Sprinkle with brown sugar and half of the grated swiss cheese. Remove the foil and toothpicks from the baked clover and fill the inside with the ground beef mix. Add the remaining grated swiss cheese and bake for 10 minutes at 375 °F. Sprinkle with chopped parsley, serve with the french fries, and enjoy!
Similar recipes from Chefclub
-
Our other recipes