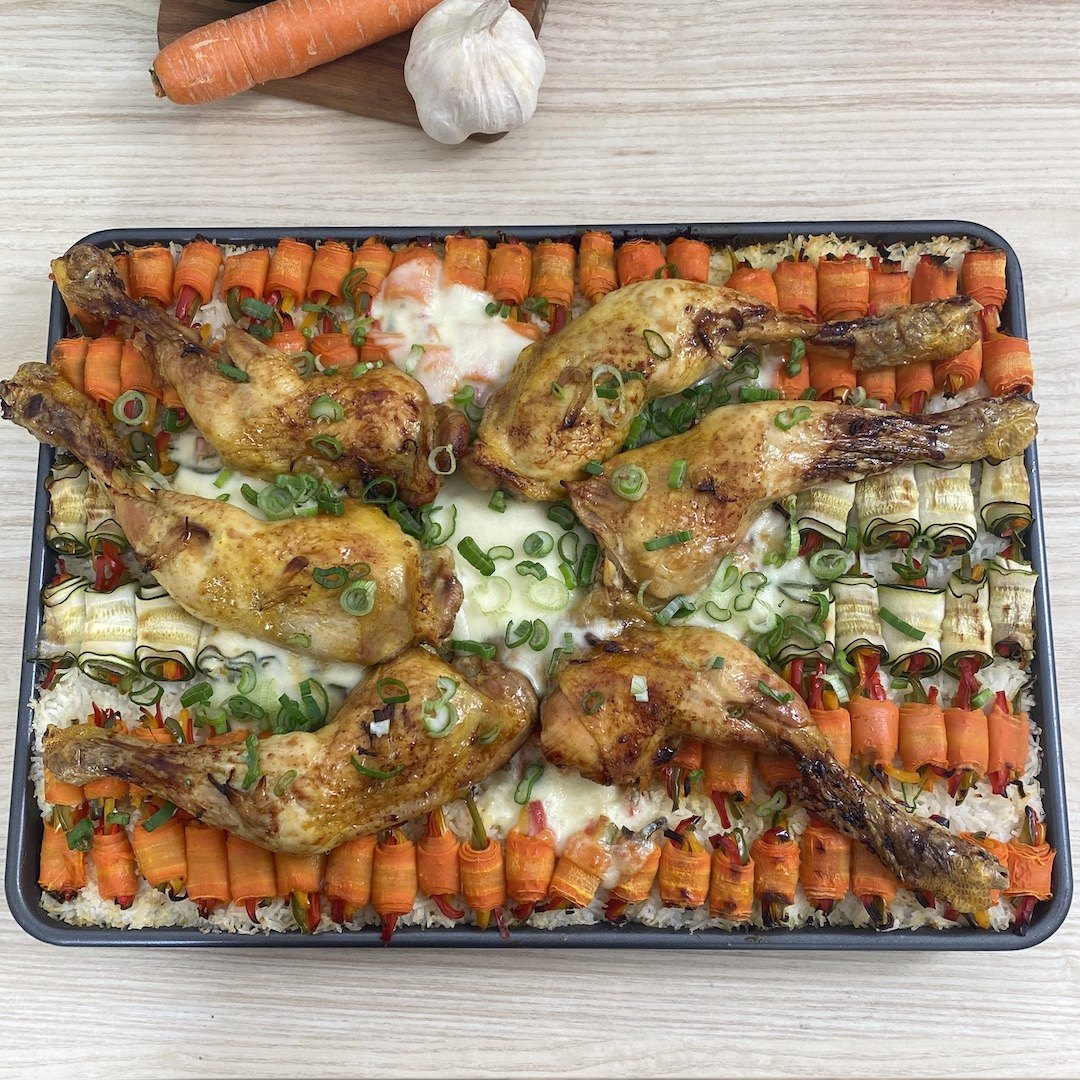 One Pan Teriyaki Chicken
Paired with veggie ribbon rolls 😋
Made by you!
Ingredients
6 chicken leg quarters
2 garlic cloves
3 cups basmati rice
10 carrots
3 zucchinis
2 red bell peppers
2 yellow bell peppers
2 green bell peppers
4 cups chicken stock
1 cup teriyaki sauce
8 slices mozzarella
1/4 cup sliced green onion
1 tbsp ginger
Salt & pepper
Tools
Oven rack
Large baking sheet
1. Place chicken thighs in two rows of three on work surface. Make 2 incisions in the chicken thighs and slide garlic and ginger slices into each incision. Season with salt and pepper, then cover the legs with an oven rack. Slide the thigh bone into the space between the bars so that you can lift the rack and the thighs hang down.
2. Cook the basmati rice according to the package instructions. Then spread the cooked rice on a baking sheet, peel the carrots and use the peeler to obtain thin strips of carrots, and place them in boiling water for about 1 minute. Afterwards place in a bowl of ice water. Cut the zucchini into thin slices with a mandolin. Cut the bell peppers into strips and place a yellow, green, and red strip on the edge of a carrot strip and roll up. Repeat with all the carrot strips and arrange them in 2 rows on both sides of the baking sheet covered with rice.
3. Repeat the rolling step with the zucchini strips, then place the rolled zucchini strips in the center of the pan in 2 rows. Place the baking sheet in the oven at 325 °F and pour the broth into the rice dish, then place the rack with the chicken legs on top of the rice and vegetables. Bake for 45 minutes at 325 °F.
4. Remove the dish from the oven and brush the chicken thighs with teriyaki sauce. Place the mozzarella slices in the dish and place in the oven for another 10 minutes at 425 °F. Sprinkle the dish with the sliced green onion, serve, and enjoy!
Similar recipes from Chefclub