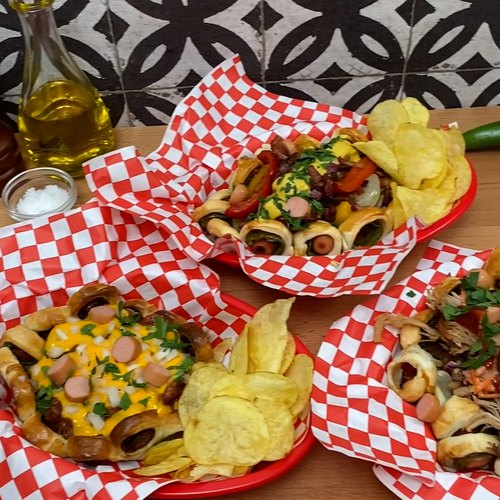 BBQ Pigs in a Blanket
Custom bowls with delicious toppings 🌭🔥🌶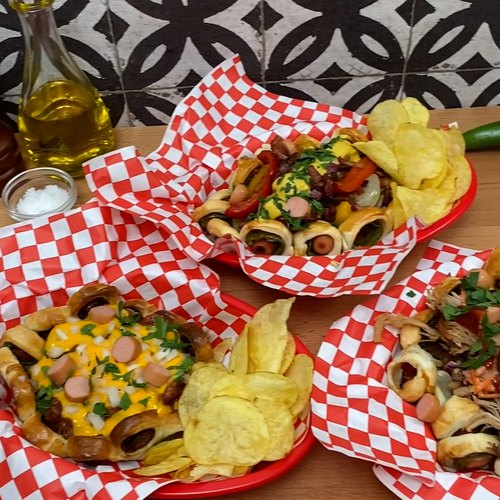 ---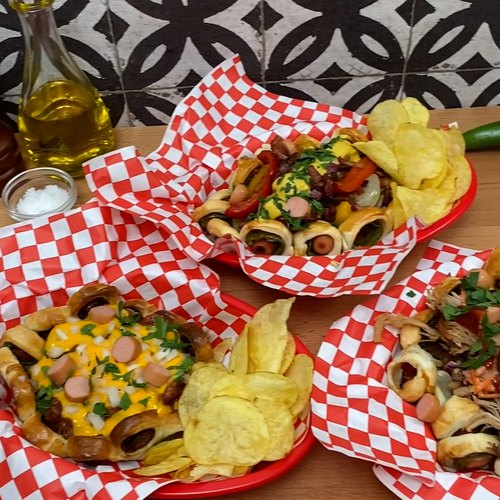 ---
Ingredients for 3 people
9 jalapeños
10 hot dogs
2 puff pastry sheets
1 egg
chili con carne
nacho cheese
white onion
parsley
bbq pork
coleslaw
bbq sauce
sautéed bell peppers
sautéed onions
bacon bits
mustard
---
Tools
Aluminum foil
Parchment paper
---
Step 1/4
Make 3 aluminum foil boats as seen in the video. Place the boats on a parchment lined baking sheet between ceramic cups and line each boat with parchment paper.
Step 2/4
Prepare the jalapeño peppers. Cut off both ends and remove the seeds. Place a hot dog inside each pepper, removing any protruding ends. Save the extra hot dog pieces for later. Next roll each jalapeño in puff pastry and cut into small coin-sized slices.
Step 3/4
Fill each foil boat with the hot dog & jalapeño slices so that they cover the entire surface and bake for 20 minutes at 350 °F. After, remove from the oven, brush with egg wash, and return to the oven for another 10 minutes. Take out and let cool to room temperature.
Step 4/4
Once cooled, place in a serving tray and fill with your favorite toppings. Some possibilities include: chili and nacho cheese, BBQ pork and coleslaw, or sautéed bell peppers and bacon bits. Enjoy!