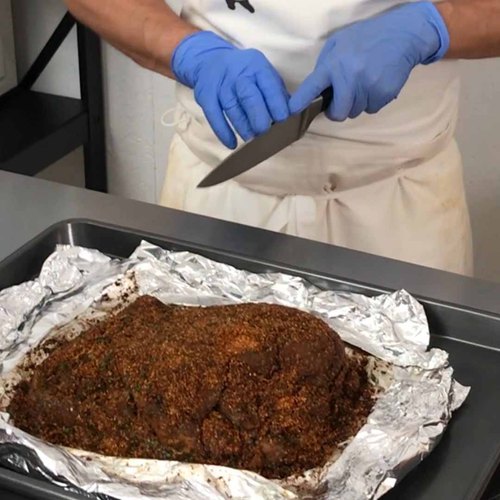 Brisket Grilled Cheese
A BBQ paradise in one perfect dish!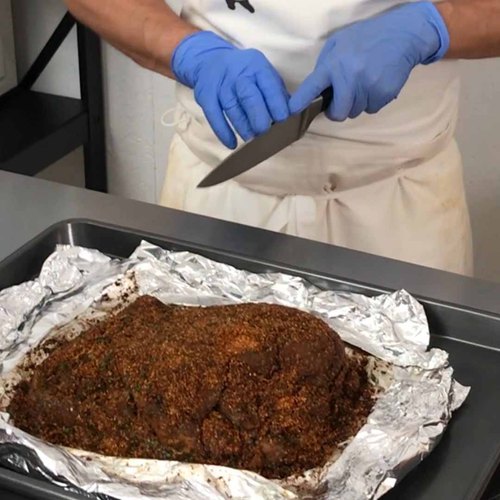 ---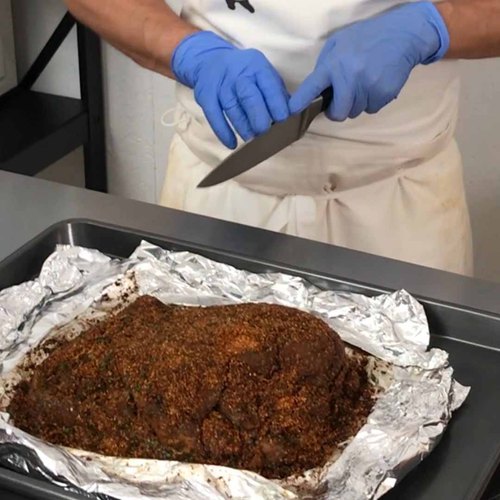 ---
Ingredients for 8 people
5 tbsp of paprika
3 tbsp of kosher salt
2 tbsp of garlic powder
2 tbsp of onion powder
1 tbsp of black pepper
1 tbsp of dried parsley
2 tsp of cumin
1 tsp of ground coriandre
5 lb of brisket
16 slices of texas toast
grated cheddar cheese
mustard
pickled onions
sliced pickles
bbq sauce
coleslaw
baked beans
melted butter
meat thermometer
---
Tools
Aluminum foil
Mixing bowl
---
Step 1/3
Mix the spices together. Rub half the spices into the brisket. Cover with a generous amount of mustard, then cover with the remaining spices. Wrap the brisket loosely in foil. Bake for 6 hours and 15 minutes at 240 °F or until the internal temperature at the thickest part of the meat reaches 185 °F. Open the foil, and continue to cook for another 45 minutes until the internal temperature reaches 200 °F. Let rest before slicing or shredding.
Step 2/3
Cover a skillet with cheddar cheese. When it starts to bubble, place two slices of Texas toast on top. Cover the top side of the bread with melted butter. With the cheese attached to the bread, flip the toast and bread over to toast the second side of the bread. Grill until golden brown. Repeat with the remaining cheese and bread. Slice each sandwich in two diagonally.
Step 3/3
Place the sandwiches on a serving plate so that they are slightly overlapping. Use a mixing bowl to press the sandwiches into the serving dish. Cover the sandwiches with shredded brisket. Place a ramekin of BBQ sauce in the center and cover the remaining brisket with coleslaw, baked beans, pickled onions, and sliced pickles. Build your own sandwich and enjoy!