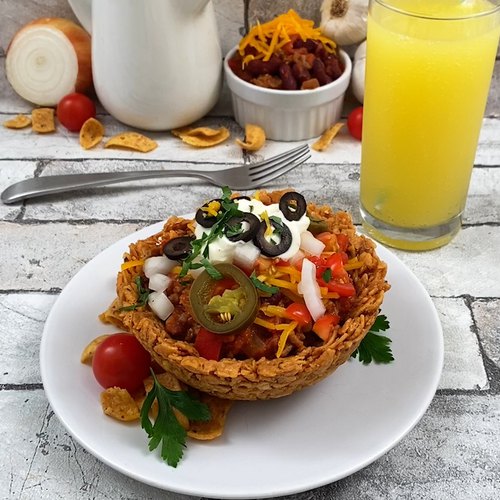 Next-Level Walking Tacos
Ditch the bag, these homemade taco bowls over-the-top good! 🥣🌮😋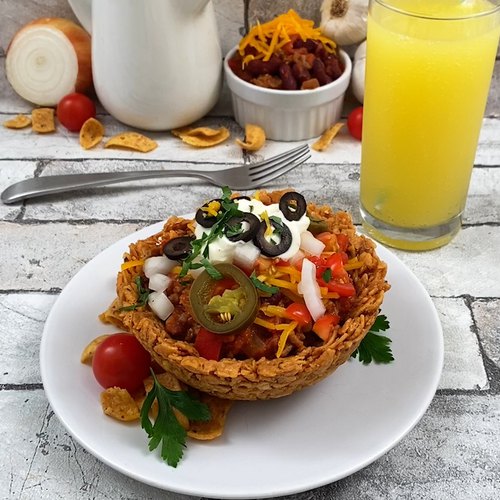 ---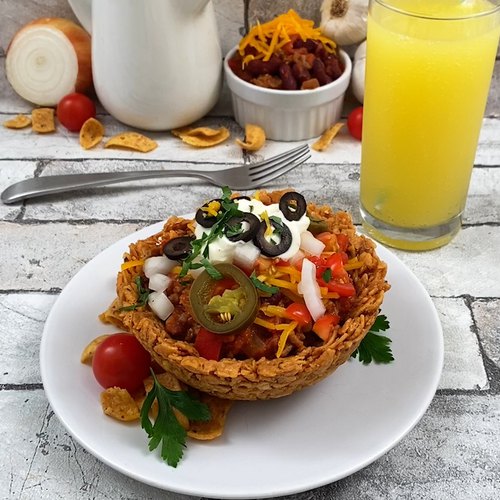 ---
Ingredients for 4 people
4 tbsp of egg whites
2 tbsp of water
1 bag of fritos
1/2 onion, chopped
2 garlic cloves, minced
1 lb of ground beef
chili seasoning
salt & pepper
1 red bell pepper, chopped
1 can of red beans
2 cups of crushed tomatoes
grated cheddar cheese
sour cream
black olives
red onions, chopped
cilantro
tomatos, diced
jalapeños
---
Tools
Small bowls
Aluminum foil
Cooking spray
Electric mixer
---
Step 1/3
Whip the egg white and water until medium peaks form. Crumble the Fritos into a bowl and fold into the egg whites coating evenly. Cover 3 small bowls with foil and spray with cooking spray. Press the Fritos into the bowl making sure not to leave any holes. Spray the bottom of the other bowls with cooking spray and place on top of the Fritos bowls. Bake for 30 minutes at 350°F. Let cool before unmolding.
Step 2/3
Heat olive oil in a medium sauce pan then cook onions and garlic until translucent. Add the ground beef and cook until the meat is browned, then drain the grease. Add the peppers, tomatoes, beans, seasonings, salt, and pepper. Cook until reduced and thick.
Step 3/3
When the chili is ready, fill each bowl. Garnish with your favorite chili toppings such as sour cream, diced tomatoes, red onions, cilantro, cheddar cheese, black olives, and jalapeños. Enjoy!
Similar recipes from Chefclub
-
Our other recipes