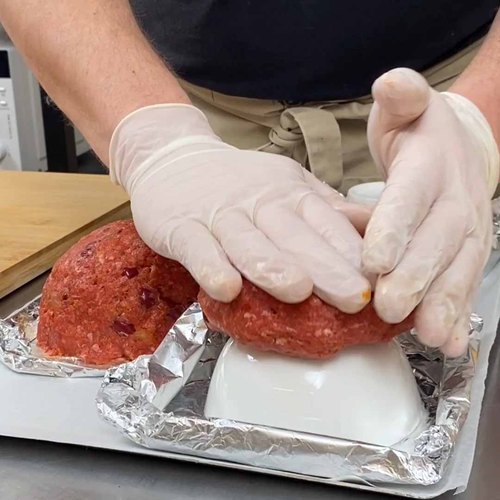 Chili Meatloaf Bowls
Overflowing with mac & cheese and crispy onion rings!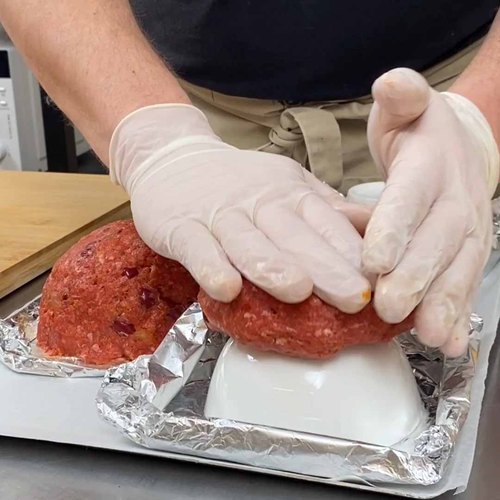 ---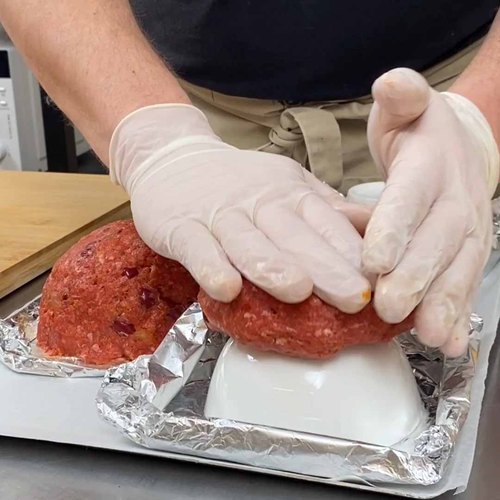 ---
Ingredients for 6 people
1 tbsp of olive oil
1 cup of onion, divided
2 cloves garlic, divided
1 tbsp of tomato paste
2 cups of crushed tomatoes
bouillon cube
1 tsp of oregano
1 tsp of chili powder
1 tsp of cumin
2 tsp of salt, divided
1 cup of kidney beans
1 1/2 lbs of ground beef
salt & pepper
1 onion
1 1/3 cups of flour, divided
1 tsp of salt
1 tsp of baking powder
3 cups of milk, divided
1/2 cup of bread crumbs
hot sunflower seed oil
2 lbs of cooked macaroni
3 tbsp of butter
1 cup of grated cheddar
bacon bits
rosemary
---
Tools
Foil
Gloves
Small bowls
---
Step 1/5
In a frying pan with olive oil, cook a 1/2 cup onion until it becomes translucent. Then add in 1 garlic clove, tomato paste, crushed tomatoes, the bouillon cube, oregano, chili powder, cumin, 1 tsp salt, and kidney beans. Stir well and let cook for 10 minutes. Then let cool. In a separate bowl, salt & pepper the ground beef to taste. Pour 3/4 of the chili mixture into the bowl with the beef and combine.
Step 2/5
On a baking tray, place 3 small bowls face down with a piece of tinfoil beneath each bowl. Wearing the gloves, cover each bowl with the ground beef mixture so that it completely covers the bowl. Then, press a small ball of meat on top of each bowl. Next, bake in the oven at 350°F for 12 minutes. Remove from oven.
Step 3/5
Meanwhile, cut one onion into three slices crosswise, so that you keep the onion ring layers intact. Separate the onion layers. In a medium sized bowl with 1 cup flour, coat each ring with flour and set aside. With the remaining flour, add 1 tsp salt, baking powder, and 1 cup milk. Mix well. Then dunk each onion ring in the batter and coat with breadcrumbs. Fry in hot oil 3 minutes per side.
Step 4/5
Next make the Bechamel sauce. Melt the butter in a casserole dish on medium heat. Add a 1/2 cup onion and 1 garlic clove and cook for 1 minute. Then add 1/3 cup flour and cook for 1 more minute. Next, add 2 cups cold milk and stir using a whisk. Once the mixture boils, add your cooked macaroni to the pot along with the cheddar and stir.
Step 5/5
De-mold the hamburgers and place back in the bowl. Divide the rest of the chili between the 3. Add your mac and cheese after with a little sprinkle of grated cheddar. Cook in the oven for 3 minutes at 350°F. Next, assemble the bowls. Begin by placing 2 fried onion rings at the bottom and place the bowl on top. Garnish with more onion rings, bacon bits, and rosemary. Enjoy!