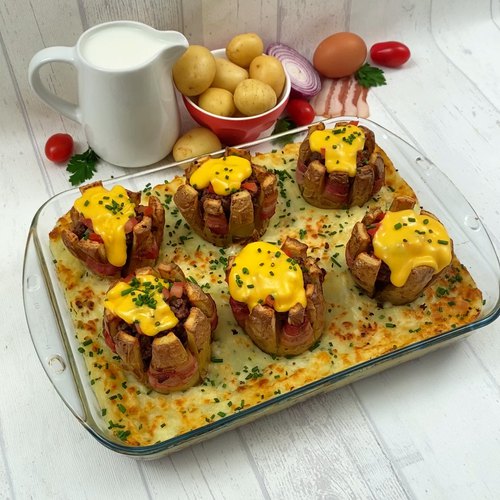 Ground Beef Potato Bake
This casserole will take dinner to new heights! 😱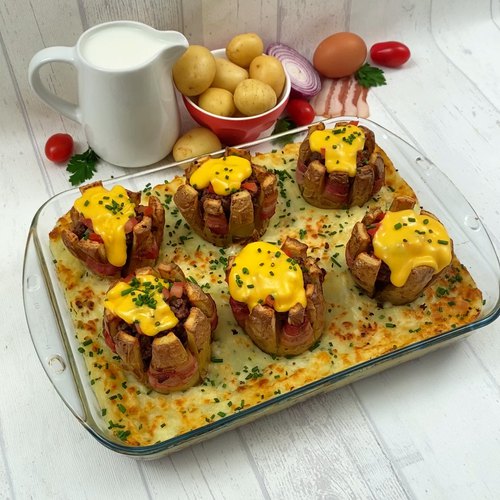 ---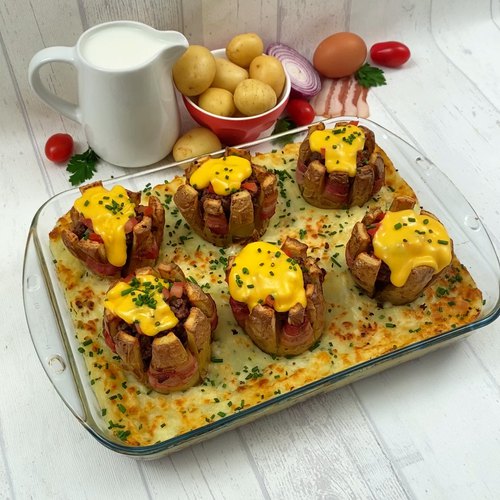 ---
Ingredients for 4 people
6 potatoes
1 lb of ground beef
onion, chopped
salt & pepper
sour cream
chives
bacon
tomatoes, diced
melted cheddar cheese
---
Step 1/3
Cut off the tops and bottoms of the potatoes then core them using a knife. Halfway slice the potatoes making sure to them attached to the base. Place on a baking sheet covered with baking paper and bake for 25 minutes at 350 °F.
Step 2/3
In a skillet, brown the ground beef with the onion, salt, and pepper. Line the bottom of a baking dish with the mixture, keeping 1 cup for later. Cook the potato cores in salted boiling water, drain, then mash with sour cream and chopped chives. Spread the mashed potatoes over the ground beef.
Step 3/3
After the potatoes are baked, weave bacon slices through the potatoes. Place the potatoes into the mashed potatoes. Place the remaining beef in the baked potatoes. Sprinkle the casserole with grated mozzarella, then bake for 20 minutes at 350 °F. Once cooked, garnish with diced tomatoes and chopped chives. Pour melted cheddar over the potatoes and enjoy!