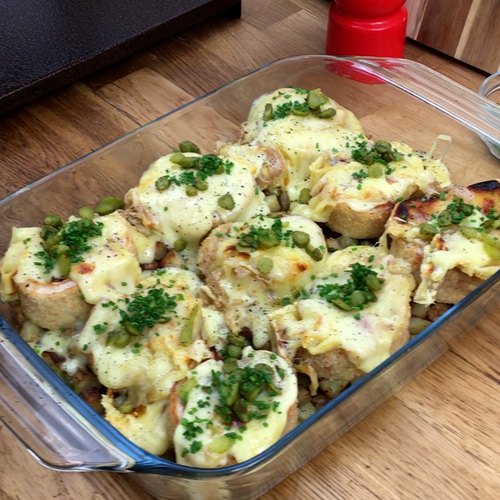 Cheesy Chicken Casserole
We're talking dinner perfection! ⭐️🍗🧀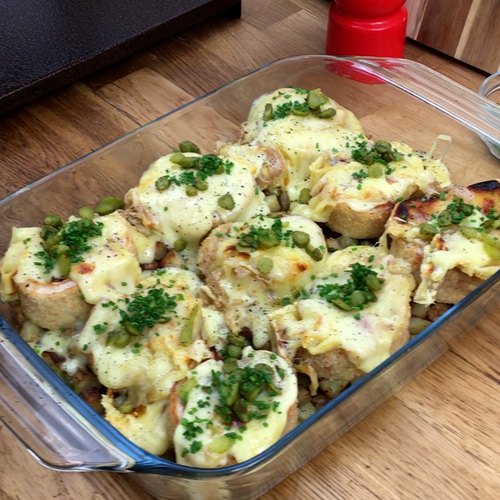 ---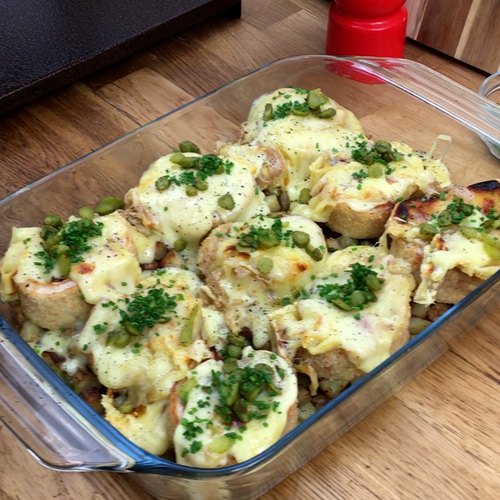 ---
Ingredients for 6 people
4 turkey breasts
1 1/4 cups of flour
5 eggs
2 cups of bread crumbs
4 slices of ham
6 slices of swiss cheese
8 potatoes
1/2 tomme of raclette cheese
onion marmalade
cornichons
butter
olive oil
chives
salt and pepper
---
Tools
Ovenproof baking dish
Raclette machine
---
Step 1/4
Coat the turkey breasts in flour, beaten eggs with half a glass of water, and breadcrumbs. Align the turkey breasts against each other, overlapping them slightly across the width of a piece of cling film. Place the ham slices and swiss cheese slices on top of this turkey rectangle. Then spread the onion marmalade on top and roll the rectangle into a sausage roll lengthwise using the cling film to tighten. Place in the freezer for 2 hours.
Step 2/4
Dice the potatoes and fry them in a frying pan with a drizzle of olive oil and a tablespoon of butter. Next, place the fried potatoes at the bottom of the ovenproof baking dish.
Step 3/4
Once you remove the turkey roll from the freezer, remove the cling film and cut it into slices. Place the slices in the dish on top of the potatoes and place in the oven for 25 minutes at 350°F.
Step 4/4
Heat the raclette cheese in the oven or using a raclette machine. Then pour the melted cheese into the turkey dish once it has been removed from the oven. Sprinkle with slices of cornichons and chopped chives, season with salt and pepper, and enjoy.