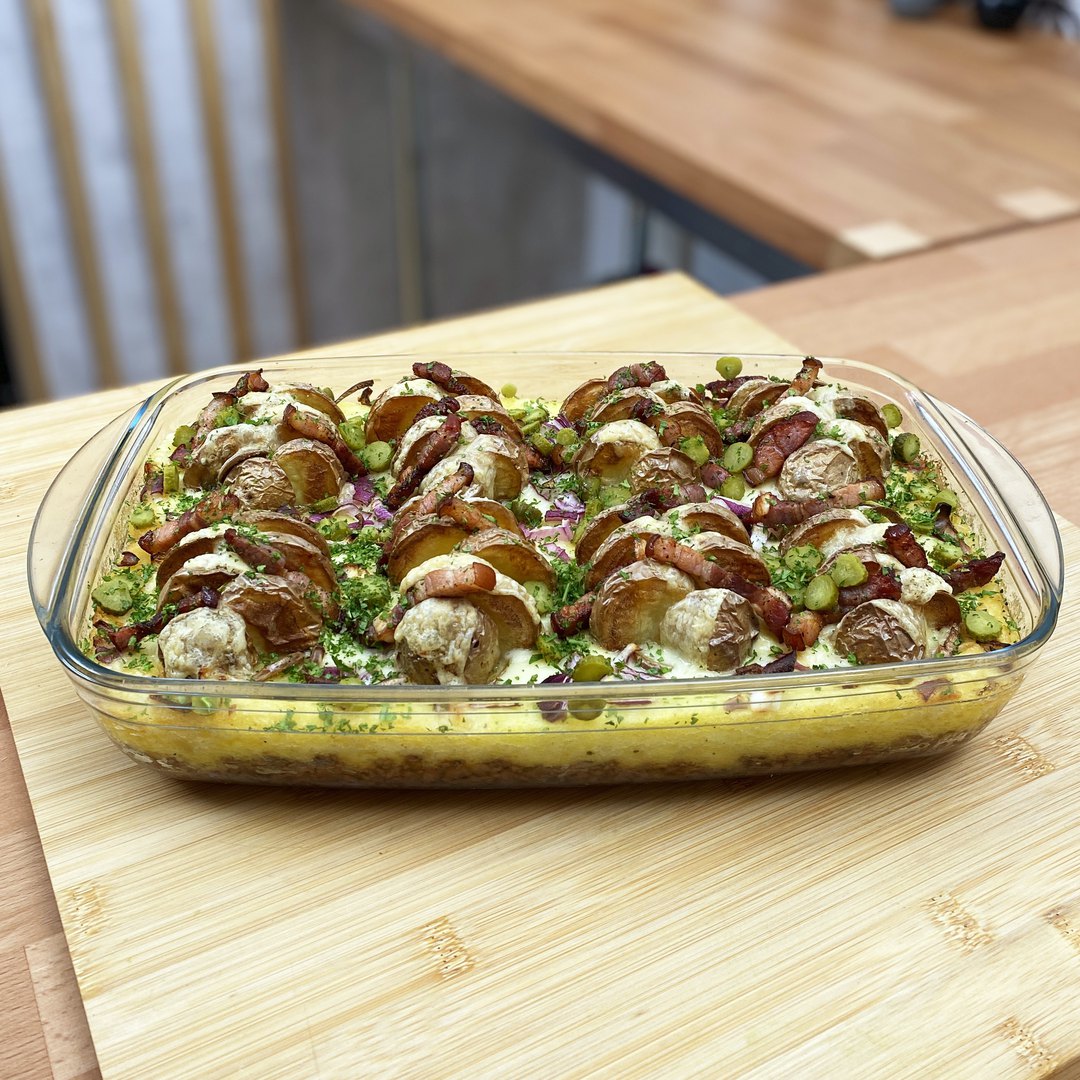 Loaded Mashed Potatoes
With beef and cheese 😋
Made by you!
Ingredients
3.3 lb potatoes
1 onion
1 1/3 lb ground beef
1/4 cup fresh parsley
1/2 cup heavy whipping cream
1 stick butter
1 tsp nutmeg powder
12 slices cheese
1 red onion
Bacon bits
Olive oil
Salt & pepper
Pickles
Chefclub Salad Spices- Garlic & Herbs
1. Cut 4 potatoes in half lengthwise, cut 2 strips 1/2 cm thick from each potato and cut the rest into pieces. Place the 8 strips on a baking sheet with parchment paper and cover each strip with the potato pieces in a staggered pattern as seen in the video. Drizzle olive oil over the potatoes, season with salt and pepper, and bake for 20 minutes at 345 °F. Cook the remaining potatoes in water for about 20 minutes.
2. In a frying pan, brown the chopped onion in a little olive oil, then add the ground beef, chopped parsley, salt, and pepper and brown the mixture. Pour this preparation into a casserole dish and spread out evenly.
3. Place the boiled potatoes into a bowl and add in the heavy whipping cream, butter, a teaspoon of nutmeg powder, salt, and pepper. Mash the potatoes, spread on top of the ground beef in the casserole dish, and place the baked potatoes on top. Cut each cheese slice into strips and place 5 on each potato half. Sprinkle with chopped red onion and bake for 20 minutes at 350 °F. Lastly sprinkle with bacon bits, finely chopped pickles, and parsley. Serve with salad and enjoy!
Similar recipes from Chefclub