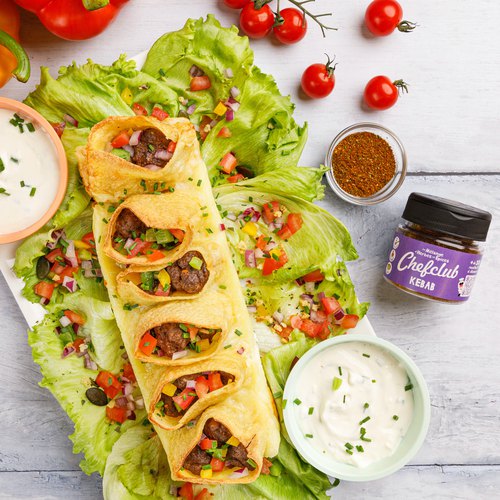 Mini kebab pockets
Just add fries for the perfect appetizer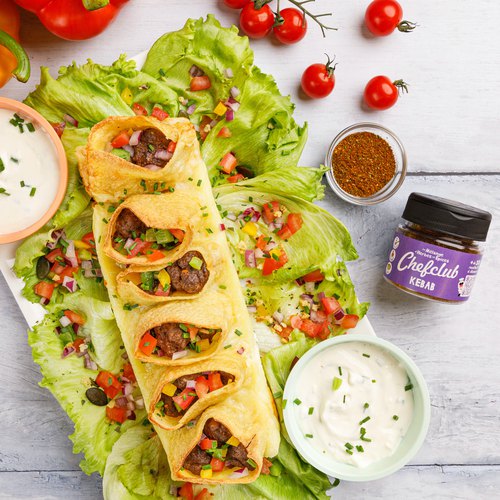 ---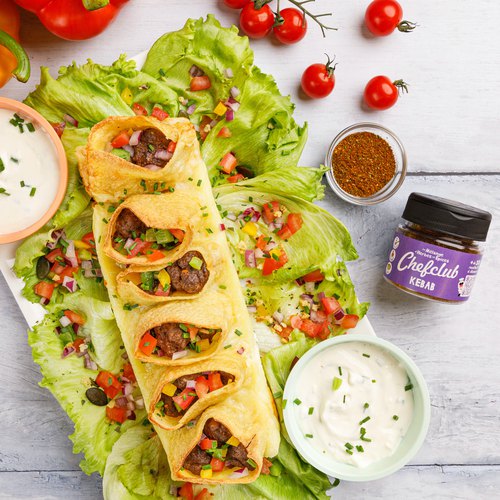 ---
Total time: 1 hour 15 minutes
Prep time: 1 hour , Cook time: 15 minutes
Ingredients for 6 people
4 eggs
2 1/3 cups of flour
2 cups of milk
1/4 cup of butter
1/4 tsp of salt
1 yogurt
1/2 lemon
2 tbsp of wholegrain mustard
3/4 lb of ground beef
1 tbsp of chefclub kebab spices
1 green bell pepper
1 yellow bell pepper
1 red bell pepper
2 cups of shredded mozzarella
2 tomatoes
sunflower oil
lettuce
---
Tools
Square spatula
Loaf pan
---
Step 1/5
For the pancake batter: combine the flour, sugar, and salt in a bowl and form a well. Add the eggs and mix until the batter thickens. Pour in the milk little by little while continuing to mix. Melt the butter and pour it into the bowl. Let stand for 30 minutes in a cool place. For the white sauce: mix the yogurt, the juice of half a lemon, and the mustard.
Step 2/5
Cut peppers and onion into pieces and set aside. Mix the ground beef with the Chefclub Kebab Spice Mix. Take a handful of ground meat, squeeze in your hand to make a meatball, and cut pieces with the plate to form meatballs. Repeat to obtain about 20 meatballs. Brown in a frying pan in a little olive oil and set aside.
Step 3/5
Dip the spatula in oil at 350 °F, remove excess oil using paper towels, dip the spatula in the crepe batter, and fry for a few seconds, just until the pocket is golden. Place the crepe on a baking sheet and repeat the operation to obtain 6 crepe pockets.
Step 4/5
Line the inside of the cake pan with baking paper and sprinkle shredded mozzarella on the bottom. Tilt the pan and place the crepe pockets in the cake pan upright. Top crepe pockets with white sauce, bell pepper mixture, red onion, and meatballs. Bake for 15 minutes at 350 °F.
Step 5/5
Serve on a bed of lettuce, sprinkle the crepe pockets with diced tomato, red onion, peppers, and chopped chives. Dip in yogurt sauce and enjoy!