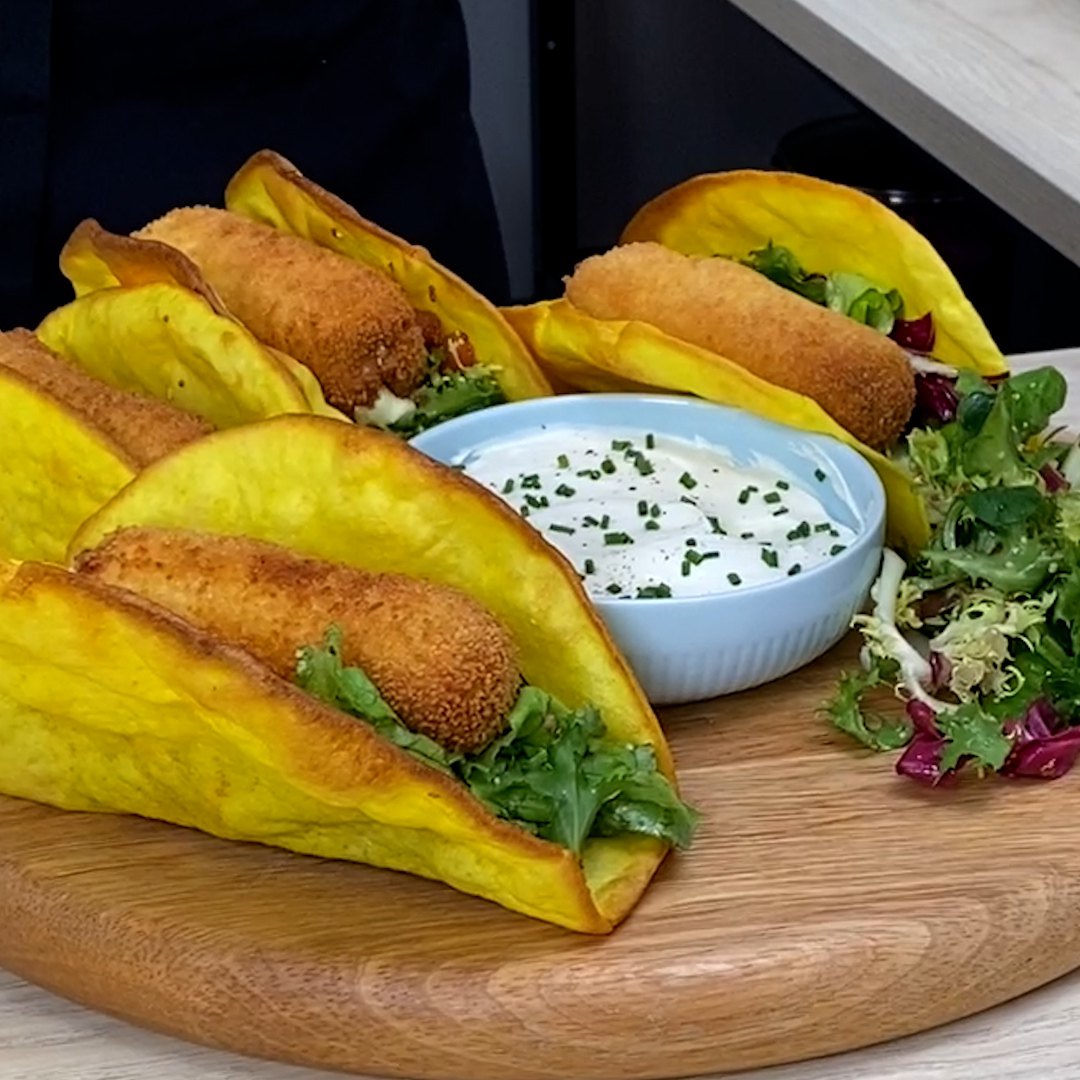 4 Cheese Taco Crepes
With deep fried chicken & ham skewers 😁🧀
Made by you!
Ingredients
5 eggs
2 1/4 cups flour
1 cup milk
1/2 cup olive oil
1 tsp tumeric
2 oz blue cheese
2 oz swiss cheese
2 oz gruyere cheese
2 oz brie cheese
4 chicken breasts
4 slices ham
1 1/4 cups breadcrumbs
6 oz lettuce
1 red onion
1 tomato
1 tsp mustard
3 tbsp balsamic vinegar
1/3 cup sour cream
Salt & pepper
Chives
Sunflower oil
Tools
Parchment paper
4 skewers
Paper towels
1. For the pancake batter: Mix 2 eggs,1 cup flour, milk, and a pinch of salt. Make 4 thin pancakes using a pancake griddle or non-stick frying pan. Spread them on parchment paper and brush each side with a mixture of olive oil and turmeric. Hang each pancake on an oven-proof rack as seen in the video and bake for 15 minutes at 325 °F.
2. Cut the pieces of cheese into squares and assemble them on top of one another. Insert 4 skewers into each corner of the cheese tower and cut crosswise to obtain 4 cheese skewers. Spread the thin chicken breasts out flat and add a slice of ham on top. Then add a cheese skewer and roll up tightly.
3. Dip each skewer in flour, then in 3 beaten eggs, and finally in breadcrumbs. Then heat oil to about 340 °F and fry the skewers on each side until golden brown. Place on paper towels to remove excess oil.
4. In a salad bowl, toss the lettuce, diced tomatoes, chopped red onion, mustard, remaining olive oil, and balsamic vinegar. In a separate small bowl, mix the sour cream and chopped chives.
5. Remove the pancake-tacos from the oven and place a little mixed salad inside the shell and finish by adding the chicken & cheese skewers. Serve with the chive sauce and enjoy!
Similar recipes from Chefclub