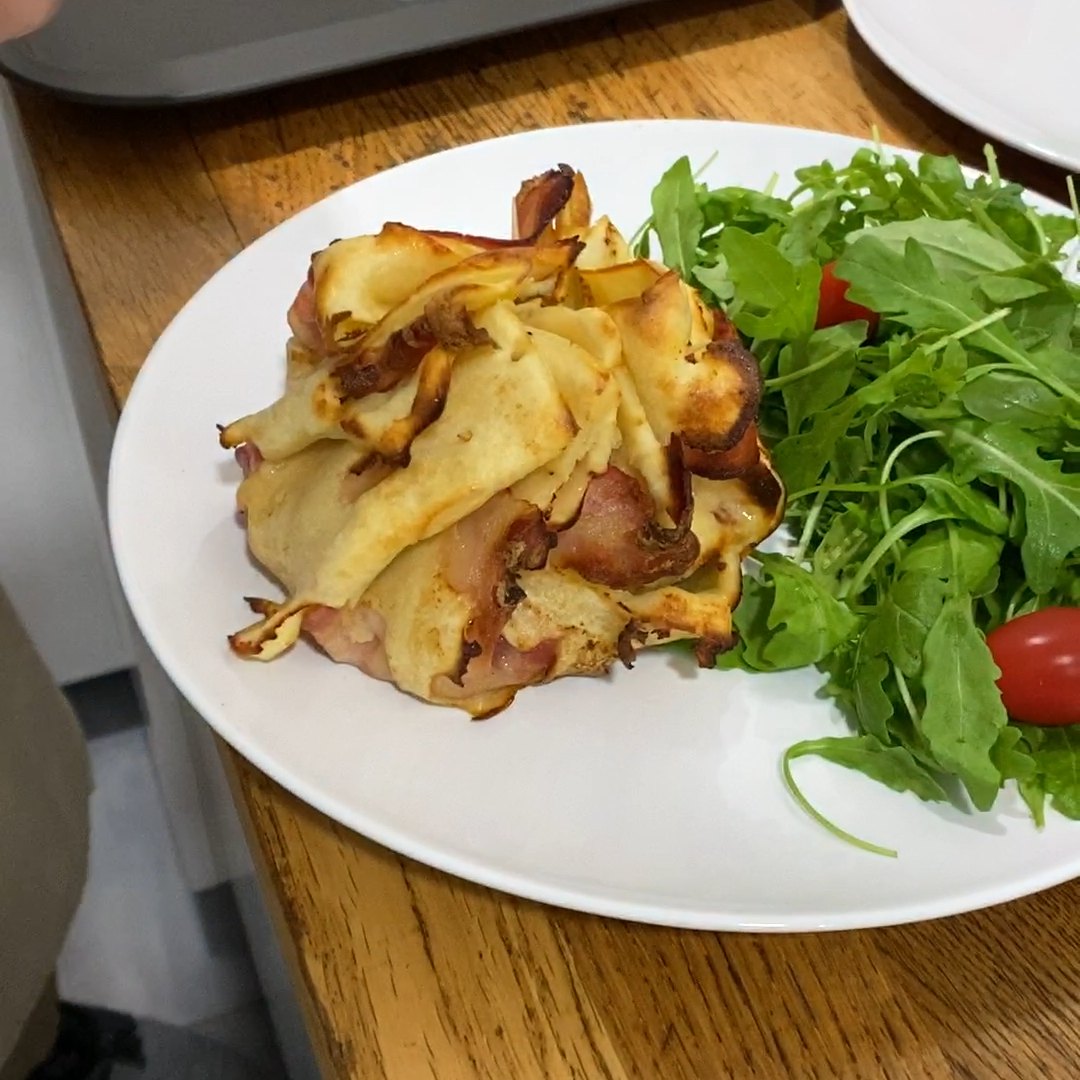 Stuffed Dinner Bites
A make-ahead meal for the ages! 😉
Made by you!
Ingredients
6 chicken breasts
1 1/2 cups shredded mozzarella
1 1/4 cups bechamel sauce
2 3/4 cups flour
4 eggs
2 cups milk
5 tablespoons butter
2 slices ham
4 slices bacon
Paprika
Curry
Salt and pepper
Tools
Parchement paper
Rolling pin
3 ramekins
Toothpicks
1. Place the chicken breasts between 2 sheets of baking paper and tap them with the rolling pin to flatten them. Line the bottom of each ramekin with 1 chicken breast then put the mozzarella and bechamel sauce on top. Close the ramekins with the remaining chicken breasts. Season with salt and pepper and sprinkle 2 with curry and 1 with paprika. Place in the oven for 20 minutes at 350 °F.
2. In a bowl, mix the flour and eggs and stir in the milk. Then add in salt and melted butter to make a pancake batter.
3. Cut each slice of ham into 4 triangles and place 4 of them in a frying pan. Pour 1 ladle of pancake batter over them and let the pancake cook. Repeat a 2nd time with the 4 remaining triangles of ham. Next fry the bacon slices in the pan and pour 1 ladle of pancake batter over them. Let the pancake cook.
4. Once taken out of the oven, remove the chicken pieces from the ramekins and place them on the pancakes. Then fold the pancakes up to form small dumplings and hold them in place with toothpicks. Bake the dumplings for 10 minutes at 350 °F. Once taken out of the oven, remove the toothpicks and enjoy.
Similar recipes from Chefclub