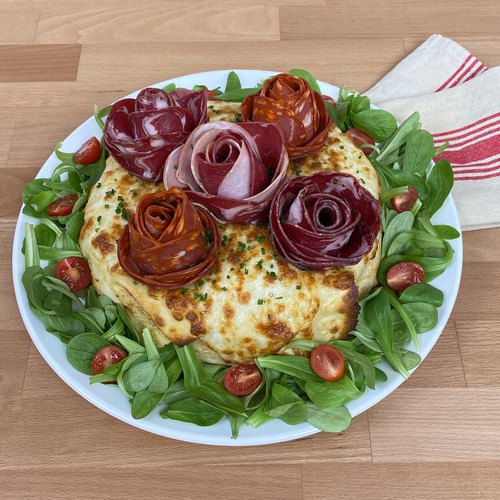 Cheesy Crepe Casserole
Cheesy Crepe Casserole! With swiss and mozzarella cheese 😋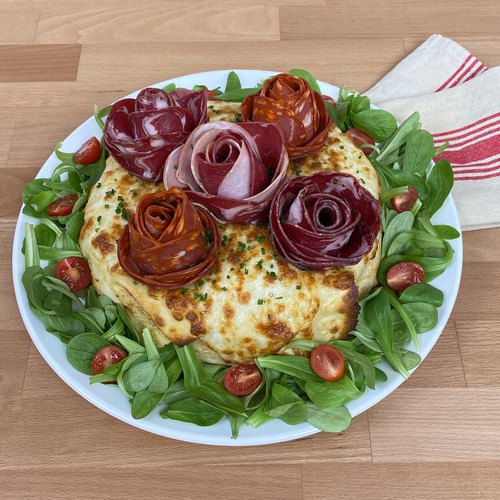 ---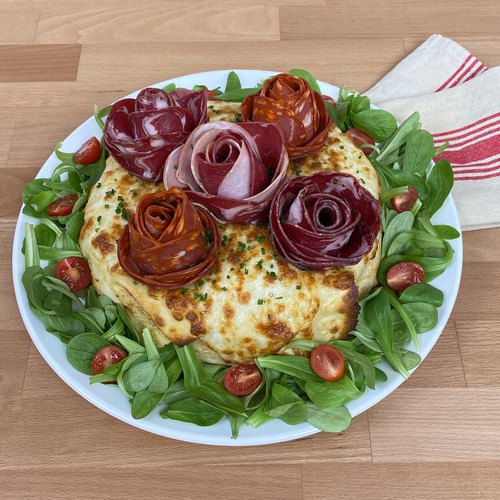 ---
Total time: 1 hour
Prep time: 30 minutes, Cook time: 30 minutes
Ingredients for 4 people
16 slices of chorizo
20 slices of coppa (italian ham)
4 slices of bacon
3 1/2 cups of flour
4 egg
5 1/2 cups of milk
4 slices of ham
8 slices of emmental cheese
1/2 cup of butter
7 oz of mozzarella
Spring onion
Salad
Cherry tomatoes
7 oz of diced ham
---
Tools
Skewers
Champagne flutes
parchment paper
---
Step 1/5
Place 6 slices of chorizo on the edges of 2 champagne flutes to make 2 roses. Do the same with 8 slices of coppa on 2 other flutes, another by alternating 4 slices of coppa and 4 slices of bacon then set aside.
Step 2/5
Melt the butter in a saucepan, add 5 tbsp of flour then 2 cups of milk little by little, salt and pepper to make a béchamel and set aside. In a bowl, make the crepe batter with 2½ cups of flour, 4 eggs and 3.4 cups of milk then make 15 crepes.
Step 3/5
Place 4 crepes on the edges of a mold, letting them stick out. Place 2 slices of ham in the center, 4 slices of Emmental cheese, cover with a crepe and repeat the process. Using a champagne flute, make 5 holes at the bottom of the mold and collect the excess with a fork. Place a crepe in the mold, spread a thin layer of béchamel then spread the excess crepes from the flute.
Step 4/5
Spread the béchamel on a crepe, cover with grated mozzarella and dcied ham. Roll the crepe and place it in the mold glued to the edges. Repeat the process until the entire surface of the mold is covered in a rosette. Close the mold with the first 4 crepes at the bottom of the mold then turn it over on a baking tray lined with parchment paper. Bake for 20 minutes at 350°F. Remove from oven and sprinkle with grated mozzarella around the holes and bake again for 10 minutes at 350°F.
Step 5/5
Remove the charcuterie roses from the flutes using a skewer, place them on the holes above the gratin, sprinkle with spring onions. Serve with salad and cherry tomatoes. Enjoy!