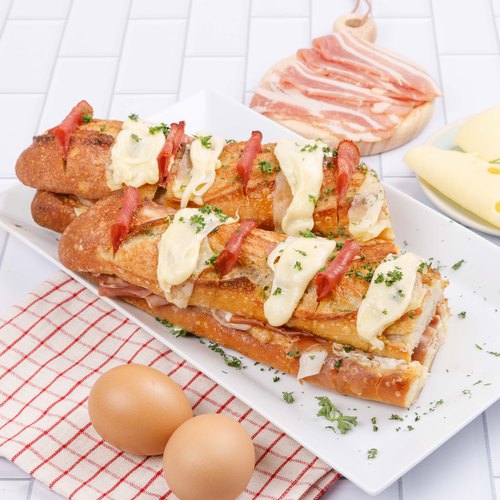 King Of Baguettes Sandwich
King Of Baguettes Sandwich! Go on, you deserve it 😄🥖👑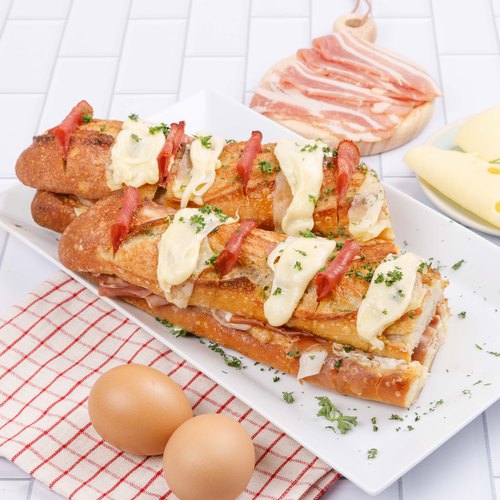 ---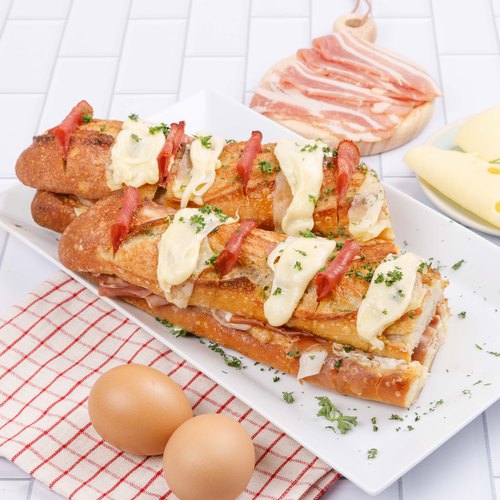 ---
Total time: 1 hour 5 minutes
Prep time: 35 minutes, Cook time: 30 minutes
Ingredients for 4 people
2 baguettes
0.3 cup of butter
1 tbsp of chefclub vegetable seasoning
4 slices of emmental cheese
1 egg
1 1/2 cups of milk
1/2 cup of heavy cream
1 pinch of salt
4.4 oz of bacon bits
1 1/2 oz of emmental cheese
2 tbsp of flour
1 tsp of nutmeg
2 slices of ham
1 tsp of chives
4 slices of bacon
---
Step 1/3
Cut a baguette into slices without going all the way through. Mix 4 tbsp of butter and the Chefclub vegetable seasoning. Brush the spiced butter between each slice. Place the slices of Emmental and bacon bits in the interstices of the baguette, alternating between them. Bake for 15 minutes at 350°F.
Step 2/3
Mix the egg, ½ cup of milk, the heavy cream, season with salt and pepper then set aside. Cook the bacon in a hot skillet and set aside. Cut the second baguette in 2 horizontally, set aside the top of the baguette, spread the spiced butter on the baguette and cook the buttered side on the griddle for a few minutes. Flatten a space in the center of the baguette using a wooden spoon, place the cooked bacon bits and pour in the quiche mixture. Cut strips of Emmental using a peeler, place them on the baguette, then bake for 15 minutes at 350°F.
Step 3/3
Melt the rest of the butter then add the flour and mix. Gradually add the rest of the milk while continuing to mix. Heat over low heat until the bechamel thickens, add the nutmeg, mix and set aside. Spread the béchamel on the baguette garnished with the quiche mixture, place the ham on the béchamel, cover with the other baguette, sprinkle with chives and enjoy!