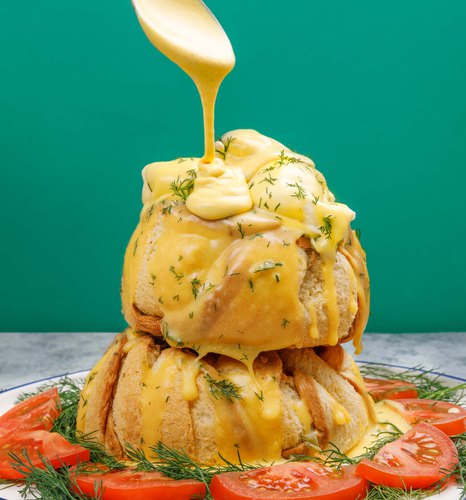 Eggs Benedict Tower
Eggs Benedict Tower! You will be eggstatic to try this new recipe 🤣🍳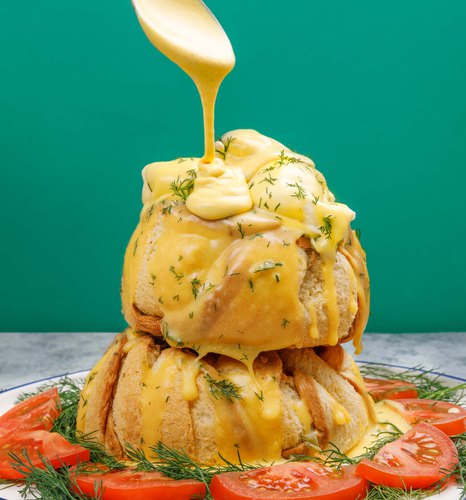 ---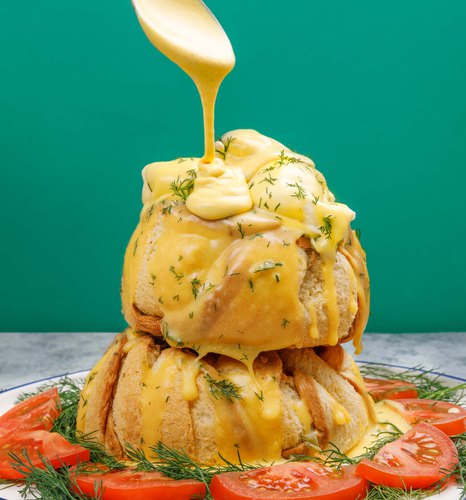 ---
Total time: 1 hour
Prep time: 1 hour
Ingredients for 4 people
3 egg yolks
2 tbsp of parsley
2 cups of butter
1 cup of maple syrup
Salt & pepper
1 tsp of paprika
1 tbsp of lemon juice
Fresh ground black pepper
1 cup of milk
6 egg
2 slices of bacon
14 slices of bread
---
Tools
Rolling pin or metal rod
---
Step 1/5
Preheat the oven to 370ºF. In a bowl, beat the milk and the two eggs. Flatten each piece of bread with the help of a rolling pin. Arrange 6 slices of bread forming a flower. Repeat the process to make a second flower. Place each flower in a lightly greased steamer basket, cover the bread slices with the milk and egg mixture, close the basket and bake for about 30 minutes, then lower the oven temperature to 250ºF.
Step 2/5
In a small bowl, combine the maple syrup, smoked paprika and black pepper. Cut a pattern of cuts on each slice of bacon and brush with maple syrup. Heat a skillet over medium heat and add 1 tsp of oil in the frying pan. When hot, add slices of bacon and fry on both sides until cooked. Remove from the pan and place on a baking sheet, keeping the bacon warm in the oven.
Step 3/5
Melt the butter in the microwave. In a blender, beat the egg yolks and lemon juice until the mixture is lighter in color. Turn off the blender and slowly add the melted butter. Continue beating for a few more seconds until thick and creamy, to make hollandaise sauce. Keep the sauce warm.
Step 4/5
Boil water in a medium pot. Crack an egg into each plastic bag and secure the top. Pass a skewer stick below the knot and dip it in boiling water. Allow to cook for three minutes. Remove from water and allow to cool.
Step 5/5
Place the bacon in the larger bread bowl. Arrange the smaller bowl on top and fill with the avocado cream. Then place the boiled eggs on top and drizzle with hollandaise sauce. Decorate with chopped fresh herbs. Serve and enjoy!