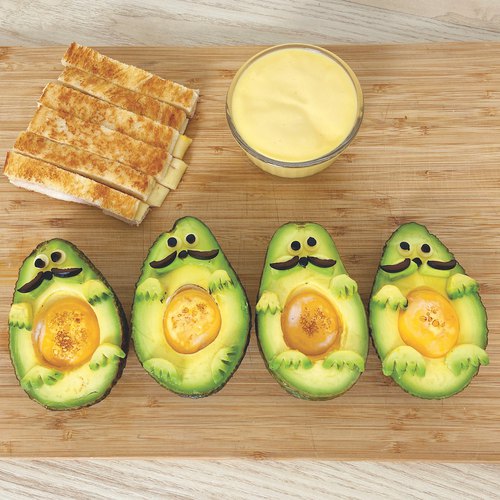 Avocado Otters
Avocado Otters! Otter-ly delicious & cute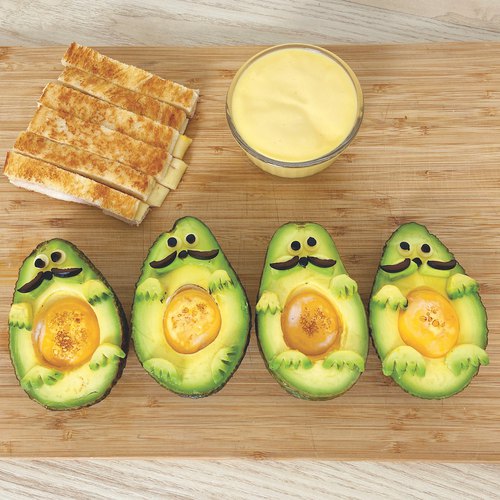 ---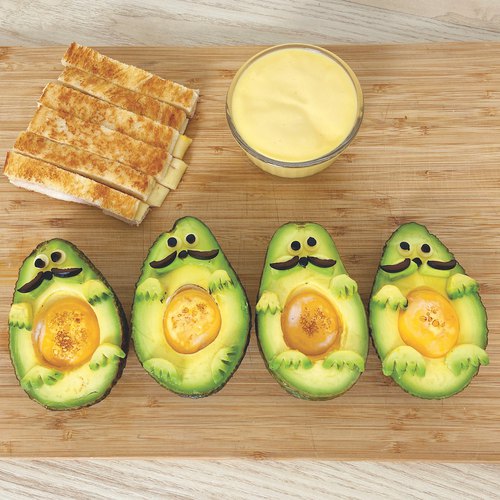 ---
Total time: 25 minutes
Prep time: 25 minutes
Ingredients for 8 people
6 egg yolks
2 tsp of butter
1 tbsp of mustard
4 avocados
6 black olives
3 slices of emmental cheese
2 slices of ham
Salt
3/5 cup of oil
---
Step 1/4
Prepare the mayonnaise by using an electric mixer to combine 2 egg yolks, 2 tablespoons of sunflower oil, 1 teaspoon of mustard, and a pinch of salt in a bowl. Refrigerate.
Step 2/4
Cut the avocados in half, remove the pit, and cut a 2 thin slice from each avocado. Remove the skin from these slices and cut out 4 legs and 2 mustaches in half-circles using the chick measuring cup. Form the toes by making 3 small cuts with a knife on each leg. Place the legs on either side of the avocados and the pieces of mustache at the top of the hole left by the pit. Place 1 egg yolk in each half and bake for 20 minutes at 350°F.
Step 3/4
Form the eyes by cutting 8 slices from 1 slice of Emmental cheese. Finish the eyes with small pieces of black olives and strips for the mustaches.
Step 4/4
Layer 1 slice of bread, 1 slice of ham, and 1 slice of Emmental cheese on top of each other and top with a buttered slice of bread. Repeat the process a second time and bake for 10 minutes at 350°F. Cut the sandwiches into strips, serve, and dip the pieces of bread into the mayonnaise and egg yolks. Enjoy!