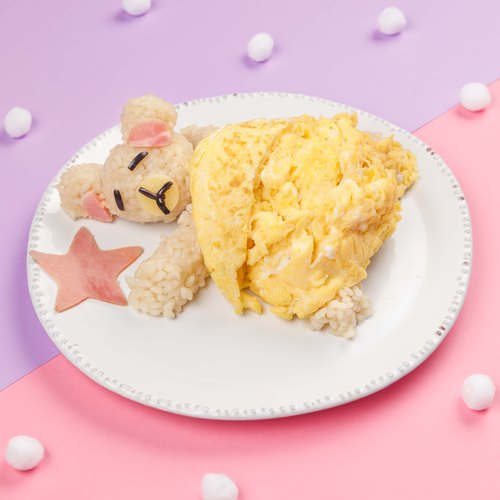 Sleepy Teddy-Bear Omelet
This cute bear is having a nap under an omelet blanket! 🐻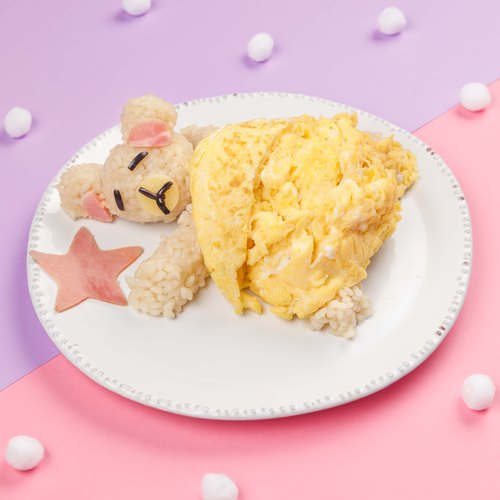 ---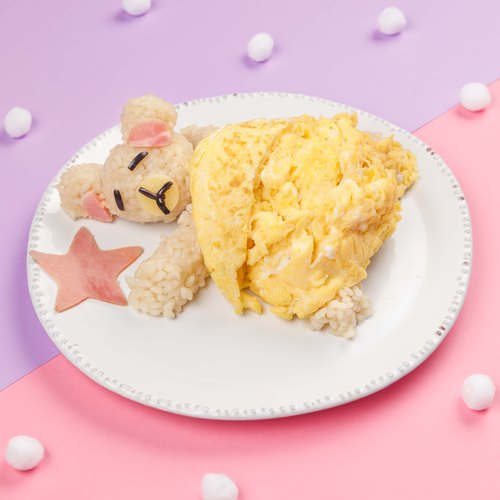 ---
Total time: 1 hour
Prep time: 15 minutes, Cook time: 15 minutes, Rest time: 30 minutes
Ingredients for 2 people
2 cups of rice
1 tbsp of soy sauce
2 broccoli
1 slice of cheese
1 slice of ham
2 black olives
6 egg
2 tbsp of milk
2 tbsp of oil
Salt
---
Tools
Cling wrap
Star cookie cutter
---
Step 1/4
Pour 2 chefs of rice into a saucepan and rinse it 4 times in a large volume of water. Add 3 chefs of water and 1 chef of soy sauce to the rinsed rice and soak for 15 minutes. Start cooking the rice, once the water starts to steam, lower the heat to low and cook for 15 minutes. Remove from the heat and allow it to soak for 15 minutes. Cover it until the rice is sticky.
Step 2/4
Before sculpting the rice with your hands, soak them in a little water and add a pinch of salt. Form the body of the teddy bear with 1 pig of cooked rice, insert 1 piece of broccoli in the center of the rice then place it on a plate. Form the head with 1 mouse of cooked rice, the ears and tail with 3 chicks of cooked rice and the legs with 4 hens of cooked rice. Repeat the process to create a second teddy bear.
Step 3/4
Cut 4 half circles in the ham to decorate the ears, 2 circles of sliced cheese for the mouth and decorate the face with pieces of black olive. Using a star cookie cutter, decorate the plate with the remaining ham.
Step 4/4
Mix 3 eggs and 1 hen of milk then pour into a pan with 1 hen of vegetable oil. Scramble the eggs, place them in a piece of cling film, form a ballotine to soften the omelet, then pour it back into the pan, forming a half-moon. Place the omelet on the teddy bear and unroll it to form a quilt. Repeat the process to create the quilt for the second teddy bear. Serve and enjoy!