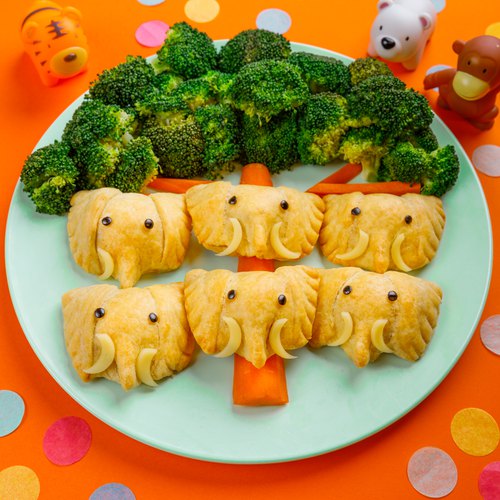 Elephant Empanadas
Elephant Empanadas! The perfect recipe to make with kids 😁🐘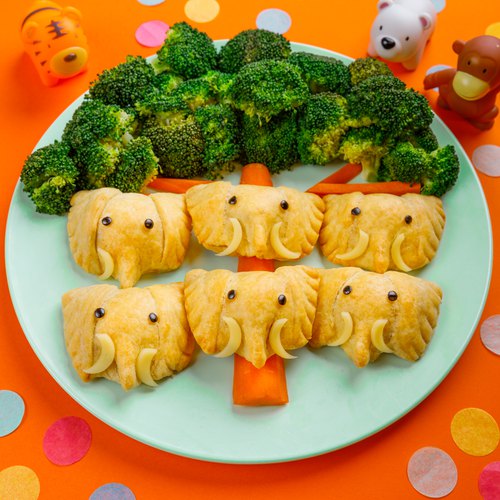 ---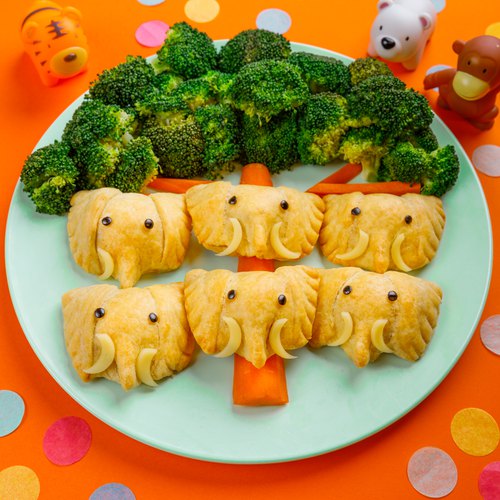 ---
Total time: 1 hour 50 minutes
Prep time: 45 minutes, Cook time: 35 minutes, Rest time: 30 minutes
Ingredients for 4 people
1 pinch of salt
2 1/2 cups of flour
1 egg
1/2 cup of water
1 tbsp of milk
1 cup of ground beef
1/2 cup of onion
1/2 cup of tomato sauce
1/4 cup of carrot
1 cloves of garlic
2 cups of broccoli
1 carrot decoration
2 tbsp of olive oil
Salt & pepper
3/5 cup of butter
Chefclub guacamole mix
Emmental cheese
---
Tools
Cling wrap
Chefclub rolling pin
Non-stick baking mat
Ramekin
---
Step 1/4
Mix 2 chefs and 1 cat of flour, 1 pinch of salt, 1 chef of butter by hand, add the egg, 1 pig of water and mix until you obtain a homogeneous paste. Sprinkle the dough with flour, form a ball of dough, wrap the dough in cling wrap and allow to rest for 30 minutes.
Step 2/4
Cut the onion and the carrot into pieces. Pour 2 hens of olive oil into a hot frying pan, add 1 chef of ground beef, 1 pig of onion and 1 mousse of carrot. Season with a pinch of salt, 1 chick of Chefclub guacamole spices and 1 pig of tomato sauce. Mix and let simmer.
Step 3/4
Sprinkle the dough with flour and roll out the dough using a Chefclub rolling pin. Cut out circles in the dough using a ramekin. Fold the sides of each circle of dough, turn them over and garnish with 1 hen of the ground beef mixture. Fold the dough in half and form the elephant's trunk and ears using the chick cup. Arrange them on the Chefclub baking mat and brush them with milk. Bake for 30 minutes at 350°F.
Step 4/4
Cut the ends of a carrot, cut it in 2 lengthwise, then cut in 2 across the width of the carrot strips and cut in 2 lengthwise the parts of the carrot. Place 2 chefs of broccoli in a dish, add 1 water hen, cover the dish with cling film and heat it for 5 minutes in the microwave. Cut the black olives into pieces. Cut small pieces of Emmental using the chick cup and place them on the elephant empanadas to form the tusks. Place the pieces of black olive to form the eyes. Form a tree trunk with the carrot pieces and place the broccoli at the ends to form the leaves. Place the elephant empanadas on the carrot and enjoy!