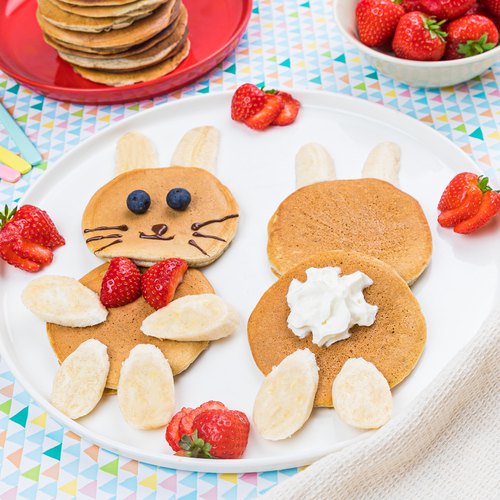 Bunny Pancakes
Bunny Pancakes! A fun recipe to make with the kids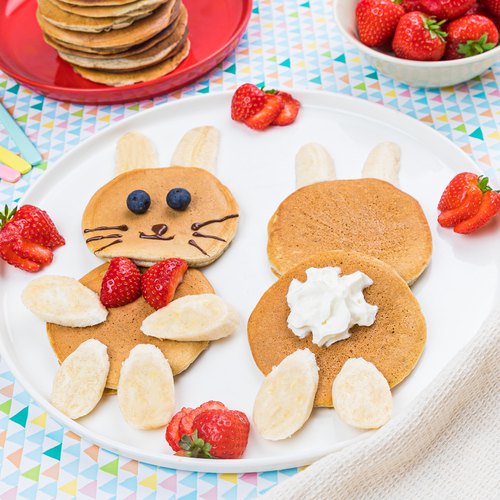 ---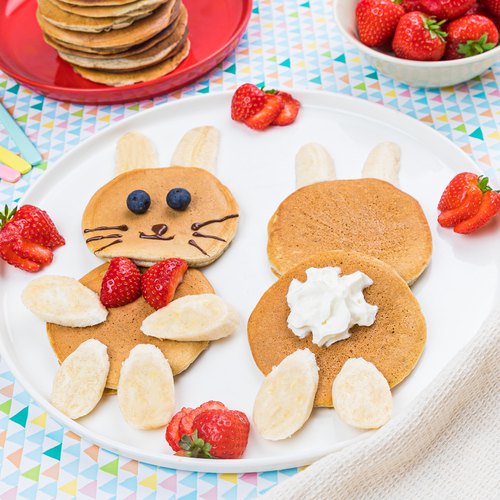 ---
Total time: 40 minutes
Prep time: 30 minutes, Cook time: 10 minutes
Ingredients for 4 people
3 bananas
3 egg
1 4/5 cups of flour
1 tsp of baking soda
2 1/2 tsp of baking powder
5 tbsp of sugar
1 cup of milk
Olive oil
Dark chocolate
2 blueberries
1 strawberry
Whipped cream
---
Tools
Electric hand mixer
Ziplock bag
---
Step 1/3
Mash 2 bananas. Separate the whites from the egg yolks. Mix the egg yolks with 3 pigs of flour, 1 chick of baking soda, 1 hen of baking powder, 1 mouse of sugar, 1 chef of milk and mashed bananas until smooth. Beat the egg whites with an electric mixer, add them to the pancake batterand mix again.
Step 2/3
Pour the pancake batter into an oiled frying pan using the mouse cup as a ladle and cook each side of the pancakes. Cut half a banana into slices, the other half into strips lengthwise and cut the strawberry in 2.
Step 3/3
Place 2 pancakes on a plate, overlapping the ends. Place the banana slices to create the rabbit's legs, place the banana strips to form the ears of the rabbit. Place the strawberries between 2 slices of banana, arrange the blueberries to make the eyes. Melt the dark chocolate, place it in a Ziplock bag, cut the bottom corner and trace the muzzle. Arrange 2 other pancakes, place 2 slices of bananas at the end of a pancake to form the hind legs, place the banana slices to form the ears and some whipped cream for the tail. Serve and enjoy!