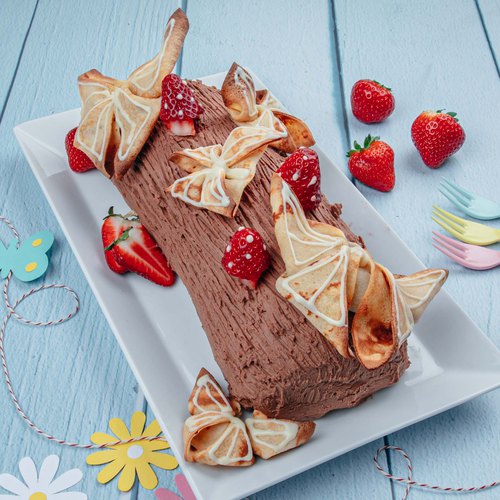 Chocolate Butterfly Log
Chocolate Butterfly Log! A fun recipe to do with the kids 🤗🦋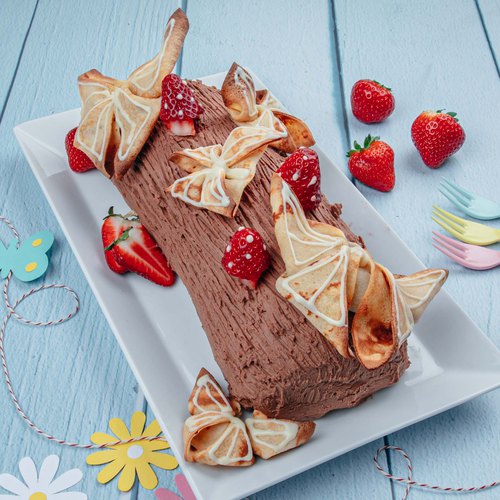 ---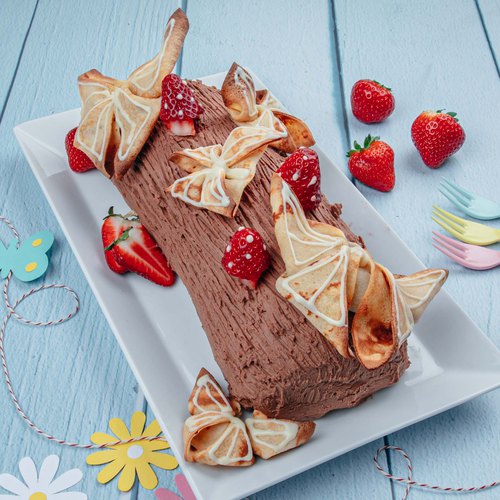 ---
Total time: 2 hours 5 minutes
Prep time: 35 minutes, Cook time: 20 minutes, Rest time: 1 hour 10 minutes
Ingredients for 5 people
3 egg
6 tbsp of sugar
1 1/2 cups of flour
2.1 cups of milk
1 tbsp of butter
2 1/2 cups of strawberries
2.1 cups of heavy cream
12 oz of dark chocolate
0.3 oz of white chocolate
---
Tools
Chefclub baking mat
Pastry brush
Ziploc bag
Whisk
Electric hand mixer
Tongs
---
Step 1/4
Mix the eggs, 1 cat of sugar, 2 cats and 1 chef of flour, add 1 chef of milk and mix. Add another 1 chef of milk, 1 egg of melted butter and mix again until to obtain a smooth batter. Cook the crepes in a hot oiled skillet and set aside.
Step 2/4
Cut 6 strawberries into slices and set aside. Pour 2 chefs of heavy cream into a saucepan and bring to the boil. Place 2 chefs of dark chocolate in a bowl and pour the heated heavy cream over the dark chocolate. Mix with a whisk to obtain a ganache. Reserve the ganache for at least 1 hour in the freezer. Whip the ganache using an electric mixer and set aside.
Step 3/4
Cut the ends of 6 crepes to form squares. Fold a crepe on itself, fold the edges inside, fold the corners in the center to form a point, turn the crepe over and fold the point towards the other end to form a crepe butterfly. Hold the point with tongs and repeat the action with the other 5 crepes. Place the butterflies on a baking sheet lined with the Chefclub baking mat and bake for 10 minutes at 320°F. Melt 1 hen of white chocolate and place it in a ziploc bag. Cut off the bottom corner. Trace the outline of the crepe butterfly wings with a line in the center of each wing and place a dot of white chocolate in the center to make the body of the butterflies.
Step 4/4
Cut the stems of 3 strawberries and make incisions without going all the way to the base of the strawberries. Cut the parts to form small strawberry mushrooms. Place white chocolate dots on the strawberries. Place 5 crepes in rows, overlapping the ends. Spread the ganache on the row of crepes. Place the strawberry slices set aside previously in a row and roll the crêpes up on themselves to form a roll. Spread the rest of the ganache on the pancake roll. Smooth the ganache with a brush and refrigerate for 10 minutes. Place the crepe butterflies and strawberry mushrooms. Enjoy!