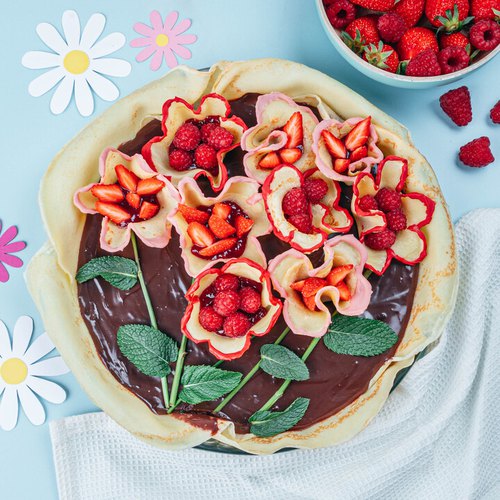 Flowery Crepe Bouquet
Flowery Crepe Bouquet! A fun recipe to make with the kids 🌸🍓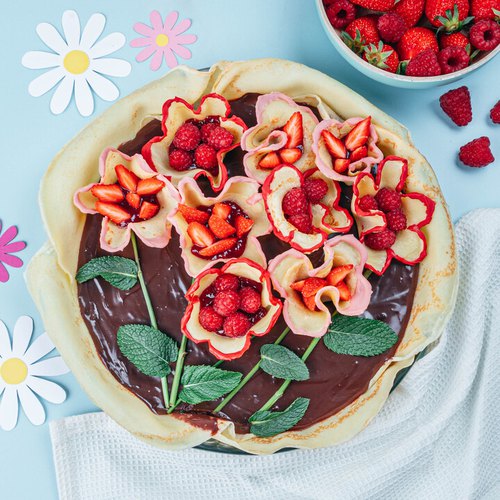 ---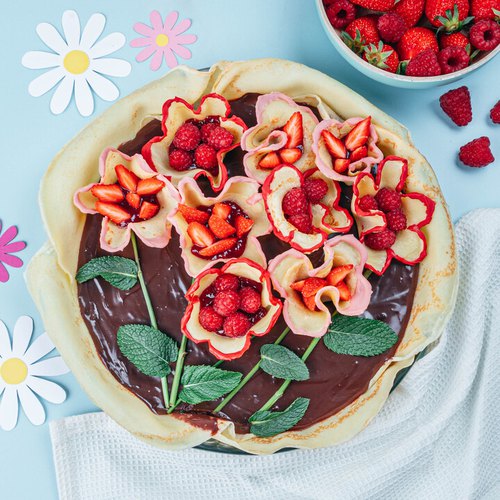 ---
Total time: 2 hours 30 minutes
Prep time: 2 hours , Rest time: 30 minutes
Ingredients for 4 people
4 egg
8 strawberries
1/4 cup of butter
2 cups of flour
2.1 cups of milk
1 tbsp of sugar
8 oz of dark chocolate
1 cup of heavy cream
3 1/2 oz of melted white chocolate
Mint leaves
Red food coloring
Pink food coloring
4 tbsp of raspberry jam
20 raspberries
---
Step 1/4
Make the crepe batter by mixing the eggs, flour, butter, milk and sugar and let it rest for 30 minutes. Make crepes of different sizes. Place the crepes in a dish to create the base of a pie.
Step 2/4
Fold the small creés, cut them, place them in cups and put them in the oven at 300°F to dry. Repeat the process with the medium-sized ones, placing them in small bowls.
Step 3/4
Place the chopped chocolate in the bowl, heat the heavy cream and gradually pour over the top to make a ganache. Mix with a spatula and spread over the base of the pie. Refrigerate for 30 minutes.
Step 4/4
Divide the white chocolate into two parts, add pink food coloring to one part and red food coloring to the other. With a brush, paint the edge of the pancake flowers. Place the flowers in the ganache. Add the jam and fruit to each flower. Place the mint leaves, serve and enjoy!