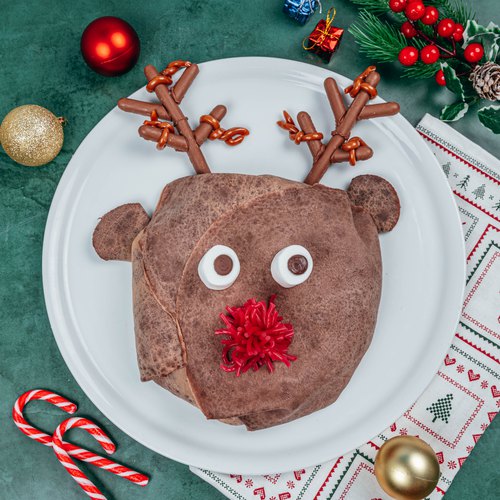 Rudolf Crepe Cake
Rudolf Crepe Cake! A festive recipe to make with the kids 🦌🎄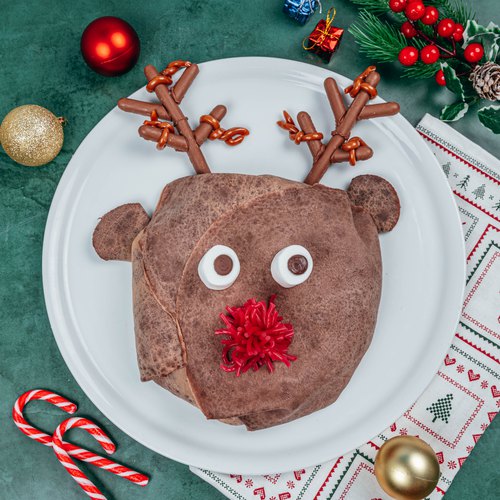 ---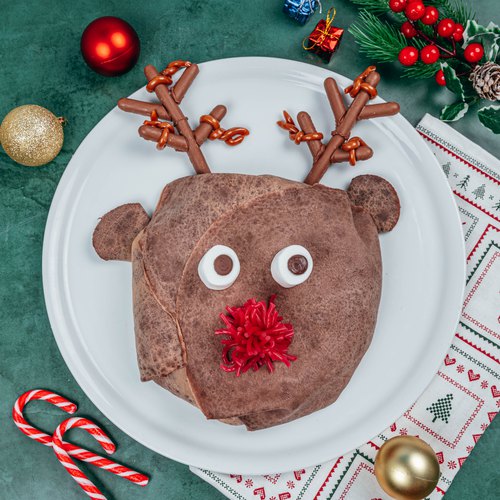 ---
Total time: 4 hours 30 minutes
Prep time: 3 hours , Cook time: 30 minutes, Rest time: 1 hour
Ingredients for 4 people
1.3 cups of flour
2 cups of milk
2 tbsp of sugar
1/4 cup of butter
4 egg
2 tbsp of cacao powder
1 cup of heavy cream
2 tbsp of cocoa powder
0.4 cup of chocolate hazelnut spread
5 string candies
2 marshmallows
Milk chocolate
6 soft caramels
6 chocolate fingers
---
Tools
Cling wrap
---
Step 1/4
Mix 1 cat and 1 chef of flour, 2 chefs milk, 2 hens sugar, 1 mouse butter, 4 eggs and 2 hens cacao powder. Allow the batter to rest 30 minutes. Cook 10 crepes.
Step 2/4
Mix 2 hens of cocoa powder and 1 cup of heavy cream into whipped cream.
Step 3/4
Line a mold with cling wrap and superimpose crepes. Put a layer of whipped cream in the center then add some of spread in a spiral. Put another crepe on top and repeat the process until the mold is covered. Refrigerate for 1 hour.
Step 4/4
Unmold the crepe cake. Make a nose with the red string candies. Make ears with a crepe. Make the eyes with marshmallows and melted chocolate. Make the antlers with the chocolate finger cookies and melted chocolate. Serve and enjoy!