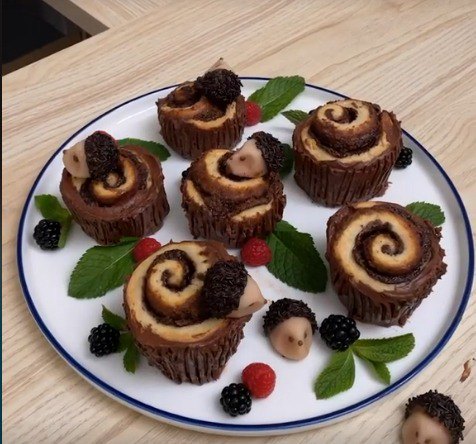 Chocolate Forest Rolls
Chocolate Forest Rolls! The kids will love this enchanting treat ✨🌲🦔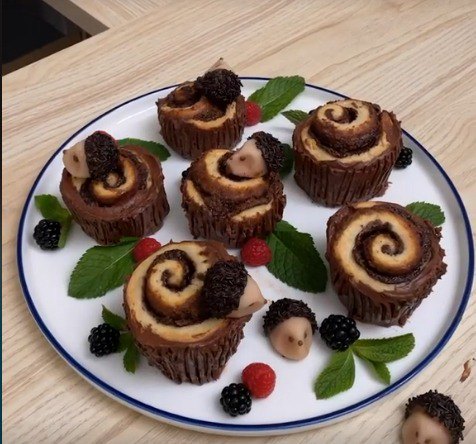 ---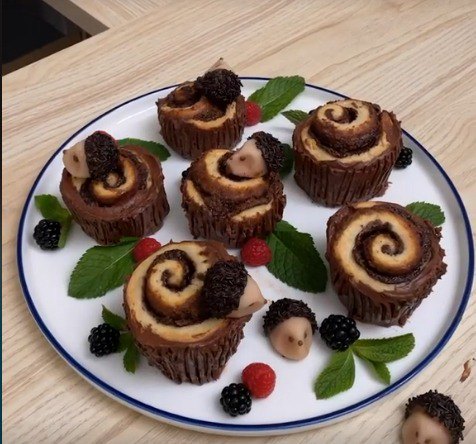 ---
Total time: 1 hour 10 minutes
Prep time: 10 minutes, Cook time: 30 minutes, Rest time: 30 minutes
Ingredients for 6 people
3 cups of flour
3 tbsp of sugar
2 tsp of baking powder
0.3 cup of chefclub chocolate spread
1/4 cup of melted milk chocolate
0.3 cup of chocolate sprinkles
3 1/2 oz of marzipan
6 oz of bittersweet chocolate
1 cup of heavy cream
---
Tools
Whisk
Rolling pin or metal rod
Spatula
---
Step 1/5
Preheat the oven to 350°F. In a mixing bowl, stir together dry ingredients : flour, baking powder, sugar, salt. Heat the butter and milk together until butter is just melted. Pour milk and butter into mixing bowl with dry ingredients. Stir with wooden spoon until dough just comes together. Turn out onto lightly floured surface and knead until dough is smooth, about 1 minute. Cover dough and allow to rest for 15 minutes.
Step 2/5
Using the chefclub rolling pin, roll out the dough into a large rectangle. Spread a thin layer of chocolate hazelnut spread all over the dough, leaving some space along one long side. Roll up the dough and use the part of the dough without the chocolate hazelnut spread to seal the log. Cut the dough log into 10 pieces. Place each slice into a greased muffin tin. Bake for 15-20 minutes. Remove the rolls from muffin pan and allow to cool completely.
Step 3/5
Heat up heavy cream and pour over the bittersweet chocolate. Stir until chocolate is completely melted. Allow to cool to room temperature.
Step 4/5
Divide the marzipan into tablespoon (hen) sized balls. Sculpt to form hedgehog shapes. Dip the the marzipan hedgehogs into melted chocolate and cover with chocolate sprinkles. Use a piece of dry spaghetti dipped into the melted chocolate to make the eyes and nose of the hedgehog.
Step 5/5
Whip up the ganache with a hand mixer and spread around the outside of each chocolate roll. Using a fork create bark texture. Top each roll with a little hedgehog. Serve and enjoy!