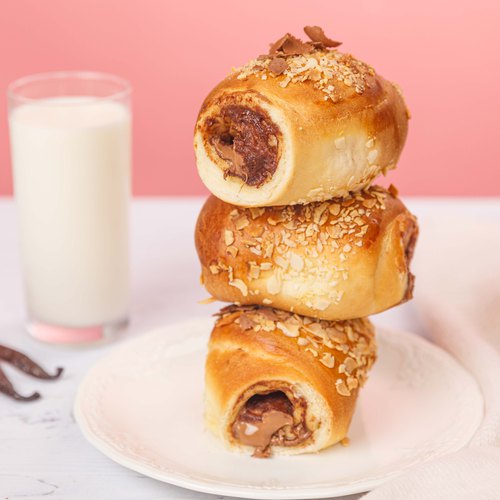 Bake Me Smile Chocolate Bread
Bake Me Smile Chocolate Bread! Hop into the kitchen and bake it happen 😄🍫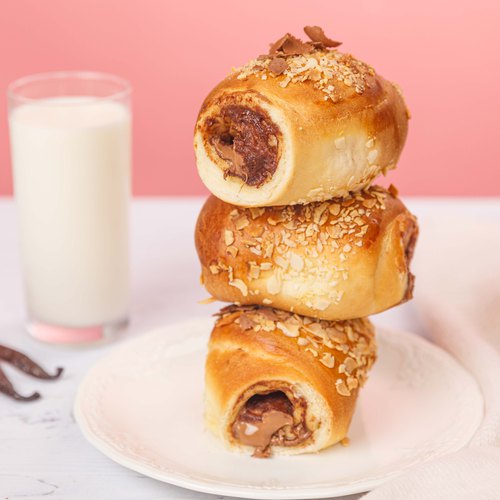 ---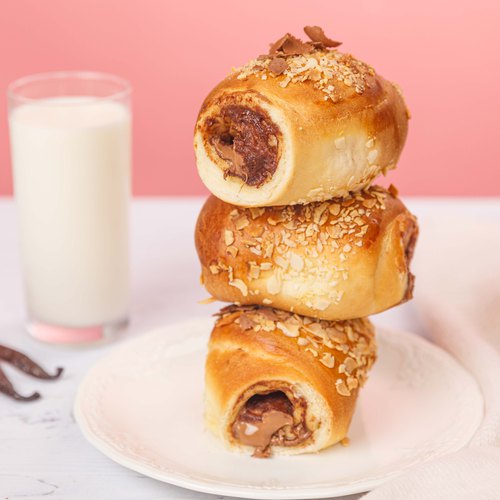 ---
Total time: 5 hours
Prep time: 40 minutes, Cook time: 20 minutes, Rest time: 4 hours
Ingredients for 6 people
5 cups of flour
2 egg
235 ml of milk
1/2 cup of sugar
3 tsp of yeast
0.3 cup of butter
16 oz of milk chocolate
3 1/2 oz of sliced almonds
3 tbsp of cocoa powder
---
Tools
parchment paper
---
Step 1/3
Mix the flour, the eggs, the salt, the yeast, 1/2 cup of sugar, the milk in a bowl then add the butter. Cover with a clean towel then refrigerate for 3 hours.
Step 2/3
Break 10.5 oz of milk chocolate to obtain 6 chocolate bars. Form 4 rolls of dough, cut them into 3 parts, work and flatten the dough with a little flour. Wrap it around a milk chocolate bar. Repeat the process 5 times. Sprinkle the dough with the almonds. Place them in a baking tray lined with parchment paper, cover them with a clean towel then allow to rise for 1 hour. Bake for 20 minutes at 350°F. Heat 0.4 cup of water and the rest of the sugar to obtain a syrup then set aside.
Step 3/3
Form milk chocolate shavings then sprinkle with cocoa powder. Brush the chocolate breads with syrup, sprinkle with the chocolate shavings and enjoy!