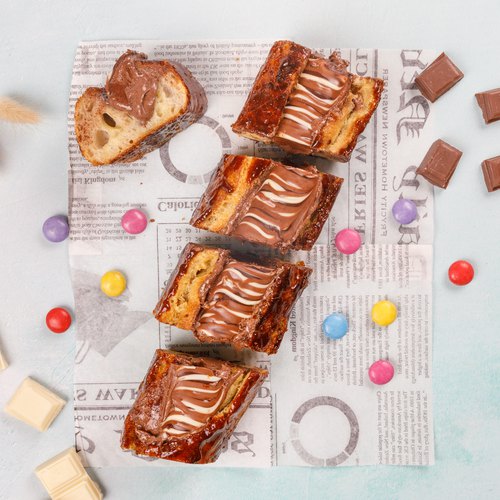 Chocolate Baguette
Chocolate Baguette! The perfect recipe for all the chocoholics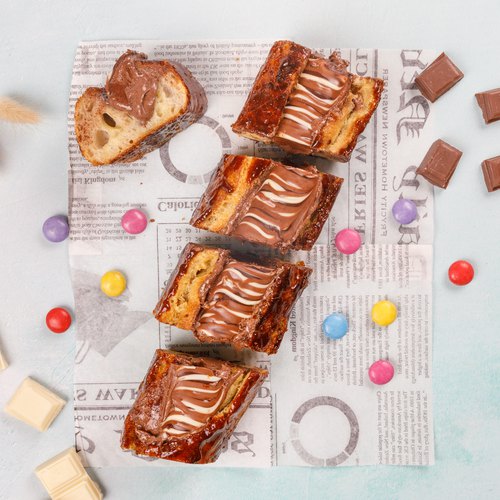 ---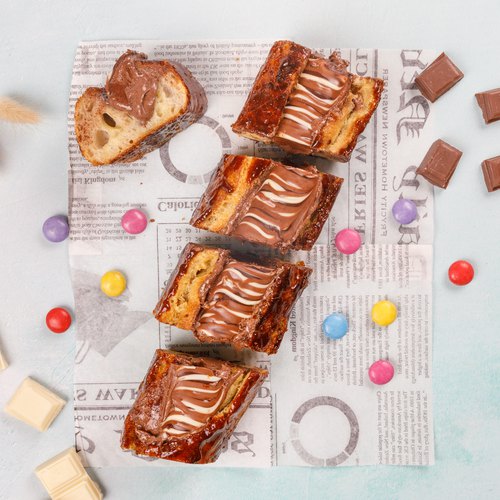 ---
Total time: 1 hour 20 minutes
Prep time: 50 minutes, Rest time: 30 minutes
Ingredients for 2 people
5 oz of cocoa powder
0.3 cup of butter
1 cup of milk
1/2 cup of brown sugar
1 pinch of salt
1 oz of milk chocolate
1 oz of white chocolate
1 cup of heavy cream
3 egg
1 baguette
1 oz of dark chocolate
---
Tools
Cacao box
parchment paper
Electric hand mixer
Ziplock bag
---
Step 1/4
Allow 5 tablespoons of butter to reach room temperature for a minimum of 10 minutes before beginning the recipe. On a baking sheet covered with parchment paper, position two wooden spoons, one on top of the other. Cream the butter, then use an electric mixer to blend it with 5 tablespoons of milk, salt, and cocoa powder inside the cocoa powder box. Before closing the cocoa box, poke a hole in the lid to pipe the mixture between the two wooden spoons.
Step 2/4
Melt the dark chocolate, put it in a Ziplock bag, and cut off the bottom corner. Cover the chocolate dough with a zigzag line along its length, then repeat the process with white and milk chocolate. Remove the two wooden spoons and freeze for 10 minutes.
Step 3/4
Mix the remaining milk, heavy cream, and eggs in a bowl to obtain a French toast batter. Melt the brown sugar and butter on a griddle. Cut a baguette in half lengthwise to make a slit, place it on a baking sheet lined with parchment paper, then pour the French toast batter into it. Place the baguette on the griddle, roll it in the brown sugar to, and let it cool for 10 minutes.
Step 4/4
Take the chocolate bar out of the freezer, insert it into the slit of the baguette, then slice the baguette into portions. Serve and enjoy!