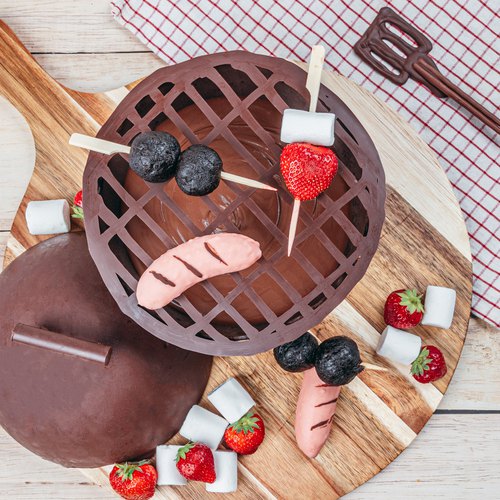 Chocolate Brownie BBQ
Chocolate Brownie BBQ! With sweet skewers 😋🍡🍫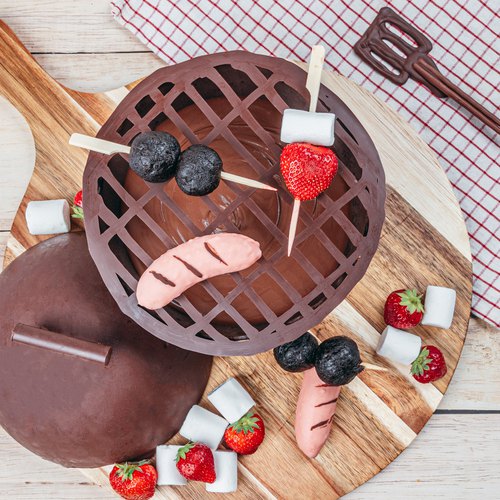 ---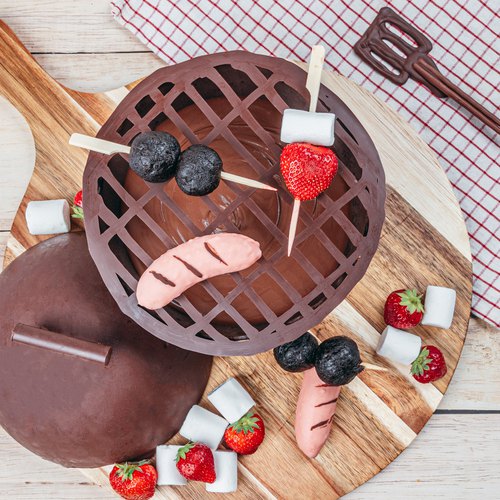 ---
Total time: 3 hours 20 minutes
Prep time: 20 minutes, Rest time: 3 hours
Ingredients for 3 people
1 lb of dark chocolate
Brownies
Marshmallows
Strawberries
4 small bananas
2 1/2 cups of heavy cream
1 cup of melted chocolate
---
Tools
Skewers
Cooling rack
Cling wrap
---
Step 1/5
Fill two bowls with water and freeze until solid. Unmold the ice cubes from the bowls and place them flat side down on the cooling rack.
Step 2/5
Heat the cream and pour it over the chocolate. Place cling wrap on top and refrigerate.
Step 3/5
Pour the melted dark chocolate over each of the ice domes to cover completely. Use a hot knife to trim the edges and carefully remove the chocolate demi spheres. Pour some of the chocolate into a small domed bowl. Allow the chocolate to set, then remove from the mold. Heat the small dome and stick one of the large demi-spheres to the bottom to create a foot for the BBQ grill. Add a little chocolate handle to the top of the BBQ grill lid.
Step 4/5
Crumble the brownies to create cake pop meatballs and place them on skewers. Dip the baby bananas in melted chocolate and keep in the refrigerator until ready to serve. Make skewers with the marshmallows and strawberries. Make a chocolate grate for the grill on a plastic sheet protector. Place in the refrigerator until set.
Step 5/5
Pour the chocolate ganache into the bottom of the BBQ grill. Place the grate on top. Add the different skewers. Place the chocolate lid on top. Serve and enjoy!