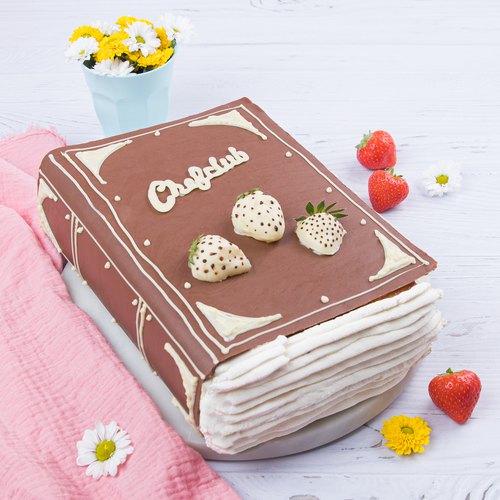 Strawberry Charlotte Book
Strawberry Charlotte Book! Treat your shelf to this dessert 😘🍓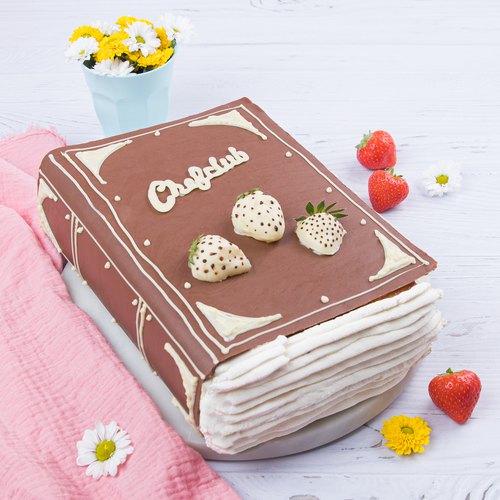 ---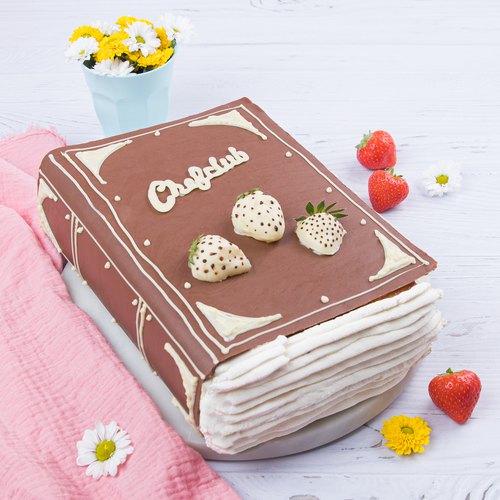 ---
Total time: 2 hours 30 minutes
Prep time: 35 minutes, Rest time: 1 hour 55 minutes
Ingredients for 6 people
5.2 oz of white chocolate
7 tbsp of powdered sugar
2 cups of heavy cream
1 vanilla bean
9 oz of mascarpone
2 cups of strawberries
1/2 cup of raspberry coulis
5.2 oz of milk chocolate
1 oz of dark chocolate
---
Tools
Piping bag
Toothpicks
Cling wrap
parchment paper
Plastic sheet protector
---
Step 1/4
Melt the milk chocolate, spread it over the surface of a sheet of parchment paper to form a rectangle. Place a book on the inside edge vertically, place the chocolate parchment paper on the book and refrigerate it for 30 minutes. Whip the powdered sugar, heavy cream, scraped vanilla bean and mascarpone into a whipped cream. Place the whipped cream in a piping bag and set aside. Cut the strawberries into slices.
Step 2/4
Place a book flat and place parchment paper on the front of the book. Soak one side of the ladyfingers with raspberry coulis and place them on the parchment paper. Repeat the process until the parchment paper is covered. Pipe a layer of whipped cream on the ladyfingers, place the strawberry slices and repeat the process for a second layer. Finish with a layer of ladyfingers and refrigerate for 30 minutes.
Step 3/4
Melt the white chocolate and the dark chocolate, place the melted white chocolate in a piping bag. Place a sheet with the word Chefclub written in the center or a word of your choice in a plastic sheet protector. Trace Chefclub in melted white chocolate. Cover 3 strawberries with cling wrap, coat one side with white chocolate, plunge the coated side into ice water to set the white chocolate and unmold it, then refrigerate for 20 minutes. Trace small dots of dark chocolate with a toothpick to form chocolate strawberries and refrigerate for 20 minutes.
Step 4/4
Trace the cover and the edge of the book with the rest of the melted white chocolate on the outline of the milk chocolate book. Place the strawberries and the white chocolate Chefclub and refrigerate it for 15 minutes. Place the ladyfingers and whipped cream inside the chocolate cover. Place it vertically on a plate and draw lines of whipped cream to form the pages. Serve and enjoy!