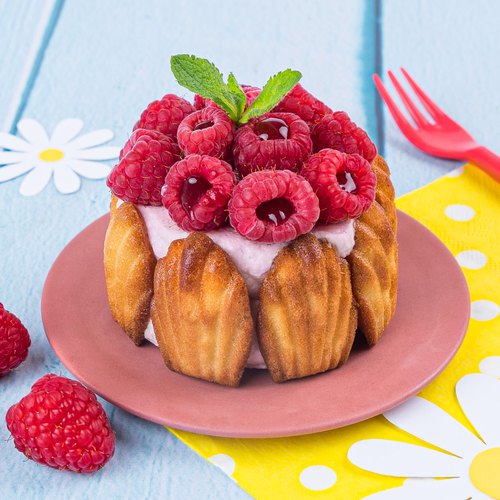 Mini Raspberry Charlotte
With delicious homemade madeleines!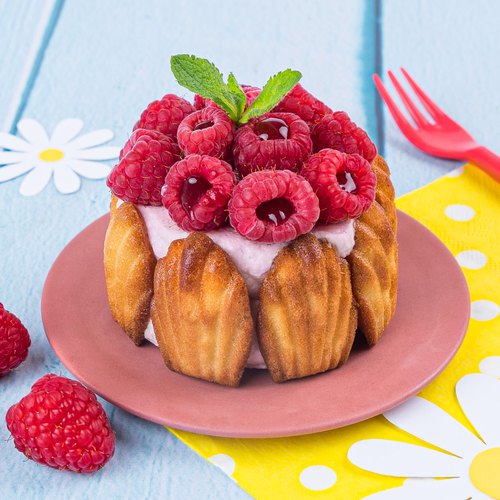 ---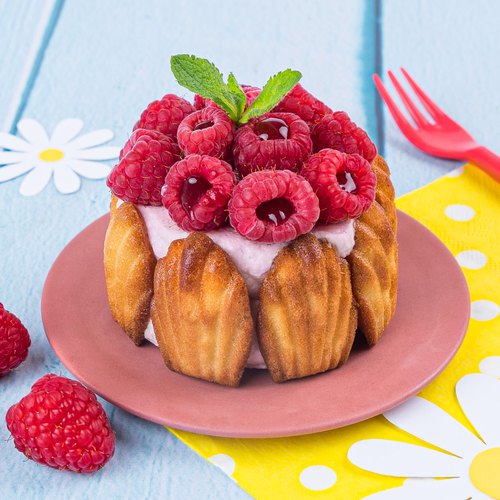 ---
Total time: 4 hours 55 minutes
Prep time: 40 minutes, Cook time: 15 minutes, Rest time: 4 hours
Ingredients for 4 people
1/2 cup of flour
1/4 cup of sugar
1 tsp of baking powder
1 egg
1/4 cup of honey
4 1/4 tbsp of butter
0.2 cup of milk
6 3/5 oz of mascarpone
3/5 cup of raspberry coulis
2 tsp of powdered sugar
2 containers of raspberries
4 mint leaves
---
Tools
Cling wrap
Ziplock bag
Mini madeleine mold
---
Step 1/3
Melt 1 mouse and 1 chick of butter. Mix 1 pig of flour, 3 hens of sugar, 1 chick of baking powder, the egg, 1 hen of honey, 1 mouse and 1 chick of melted butter, 3 hens of milk using a whisk. Cover the preparation with cling wrap and let it rest for 4 hours in the fridge.
Step 2/3
Pour the dough into a ziplock bag, cut the lower corner and pour the dough into the madeleine mold and bake for 15 minutes at 350°F. Mix 1 pig and 1 mouse of mascarpone, 1 cat of raspberry coulis, 1 pig and 1 mouse of mascarpone, 1 hen of powdered sugar until obtaining a smooth mixture and set aside. Mix 1 mouse of honey, 1 mouse of warm water until smooth.
Step 3/3
Line the chef's cup with cling wrap. Soak the madeleines with the honey mixture, place them vertically on the edge of the chef's cup, place the cream in the center and arrange the last 2 madeleines horizontally and flip the charlotte over. Place the raspberries on top, pour 1 mouse of raspberry coulis into a ziplock bag, cut the bottom corner and pour the coulis inside the raspberries. Repeat the process to have 4 mini charlottes. Add the mint leaves and enjoy!