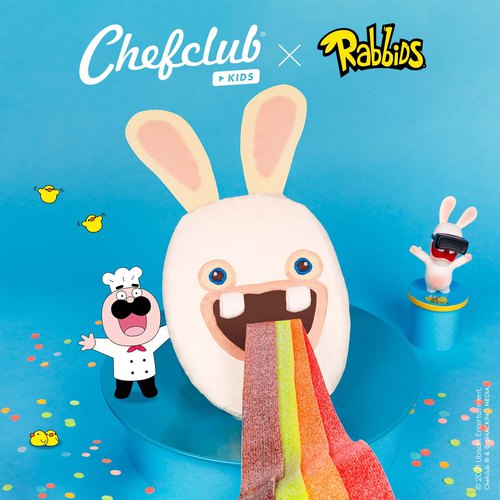 Rabbids Rainbow Cake
Rabbids Rainbow Cake! It is a 15 year celebration for the whole family🌈🍰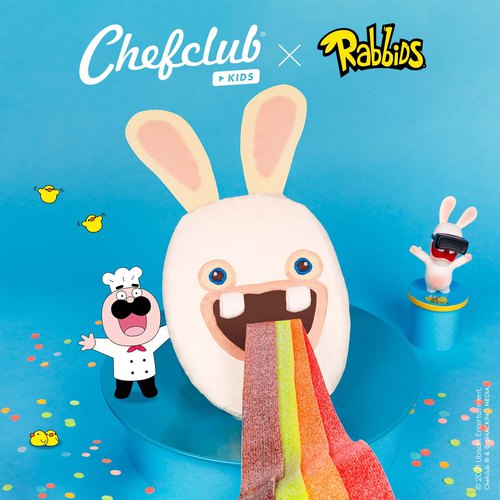 ---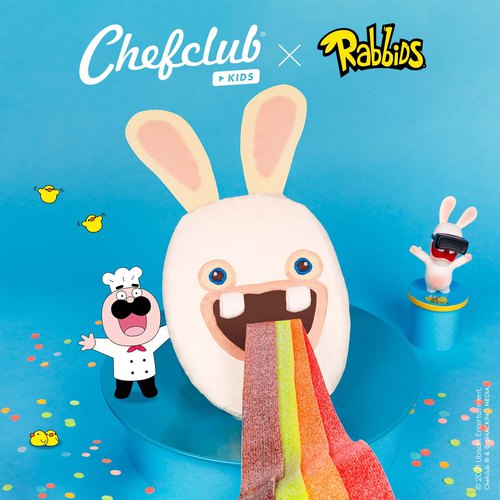 ---
Total time: 105 minutes
Prep time: 45 minutes, Cook time: 0 minutes, Rest time: 60 minutes
Ingredients for 6 people
8 candy strips
1 cup of white chocolate
4 1/2 tbsp of dark chocolate
4 tbsp of pear juice
12 ladyfinger cookies
2 cups of heavy cream
2 1/2 cups of mascarpone
3 tbsp of powdered sugar
6 oz of pears in syrup
Chocolate chips
Pink food coloring
Blue food coloring
---
Tools
Plastic sheet protector
Rolling pin or metal rod
Cling wrap
---
Step 1/3
[Download and print the decoration] (https://cdn.chefclub.tools/web_assets/LAPIN%20CR%C3%89TIN%20patron.pdf) to make the rainbow, then place it in a plastic sheet protector. Melt chef of white chocolate. Spread the white chocolate on the decoration in the plastic sheet protector. Place a rolling pin under the plastic sheet protector. Make the rabbit ears with the remaining white chocolate. Add some pink food coloring to part of the remaining white chocolate. Spread it inside the white chocolate ears. Melt 1 mouse of dark chocolate. Form a circle of melted dark chocolate, trace around the rabbit's mouth with the remaining pink chocolate. Make the eyes with the remaining white chocolate. Add blue food coloring to the melted white chocolate to create the inside of the eyes. Place the decorations in the fridge for 30 minutes.
Step 2/3
Pour 1 chef of pear juice into a deep plate and soak the ladyfingers. Place them on a plate. Whip 2 chefs of heavy cream, 1 chef of mascarpone and 1 mouse of powdered sugar. Cut the pears in syrup into pieces. Line a deep plate with cling film. Spread the whipped cream, sprinkle with chocolate chips, add 1 pear in syrup, the ladyfingers then cover with whipped cream. Repeat the action with the chocolate chips, the ladyfingers and the whipped cream. Close the cling wrap to form a rabbit head. Place in the freezer for 30 minutes.
Step 3/3
Stack the ladyfingers to form a pyramid. Place the whipped cream head on top of the pyramid. Place the chocolate decorations to form the muzzle of the rabbit. Pour some melted white chocolate on the white chocolate tongue and add the candy strips. Serve and enjoy!