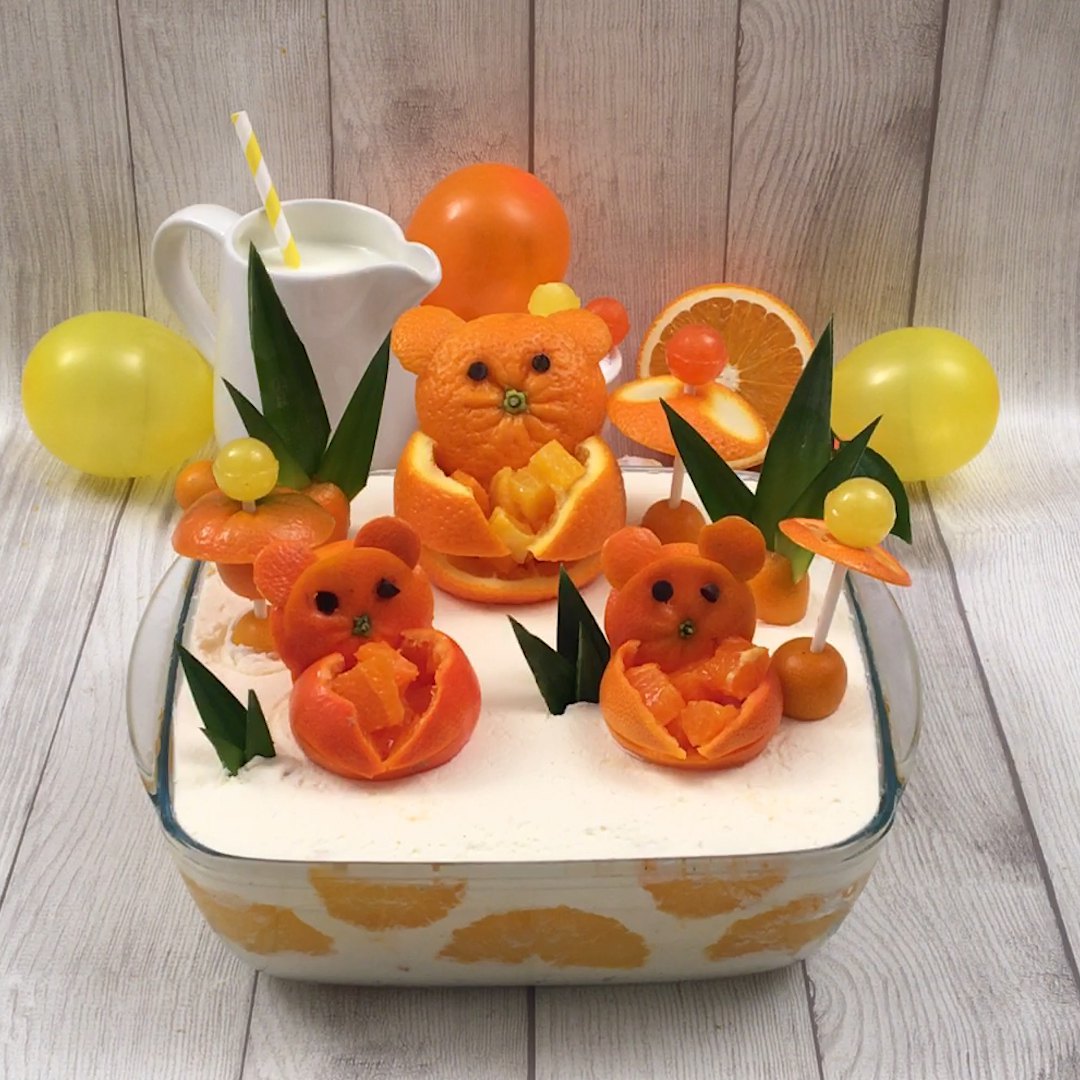 Tropical Tiramisu
Fun for kids to make! 🍊🍋
Made by you!
Ingredients
3 cups heavy whipping cream
1/2 cup powdered sugar
1 teaspoon vanilla extract
1 cup mascarpone
1 cup fruit juice
1 package ladyfinger cookies
1 cup diced mango
1 cup orange sections, peeled
1 cup mandarin sections
Mandarins
Mini chocolate chips, for garnish
Lollipops
Kumquats
Tools
Hand mixer
Glass dish
1. In a bowl combine 3 chefs of heavy whipping cream, 1 pig of powdered sugar, 1 little chicks of vanilla extract, and 1 chef of mascarpone. Whip until thick and chill.
2. In a small bowl, add 1 chef of fruit juice. Dip ladyfinger cookies in the juice and place in a glass dish. Cover the cookies with the mascarpone cream. Sprinkle with 1 chef of diced mango. Place 1 chef of orange sections around the edge of the dish. Dice the remaining orange pieces and sprinkle them on top of the mango. Place 1 chef of mandarin slices between the orange slices and add any additional mandarin on top of the orange pieces. Add more mascarpone cream on top, followed by another layer of ladyfingers dipped in fruit juice. Cover with another layer of mascarpone cream and chill.
3. Cut the ends off of a mandarin, preserving the ends. Cut two half circle slices from one end of the mandarin and place 1 slice on either side of the top slice to form the ears. Place two chocolate chips for eyes. Cut around the rest of the mandarin, removing the flesh. Cut a triangle from the front of the peel. Cut a crescent moon shape just below the triangle, forming the arms. Place a lollipop in the center of the bottom half of the mandarin and place the end of the stick into a kumquat. Dice the remaining mandarin and set aside. Place the bear and umbrella on top on the tiramisu . Fill the center of the bear with the diced mandarin. Repeat these steps to make as many bears as desired. Enjoy!