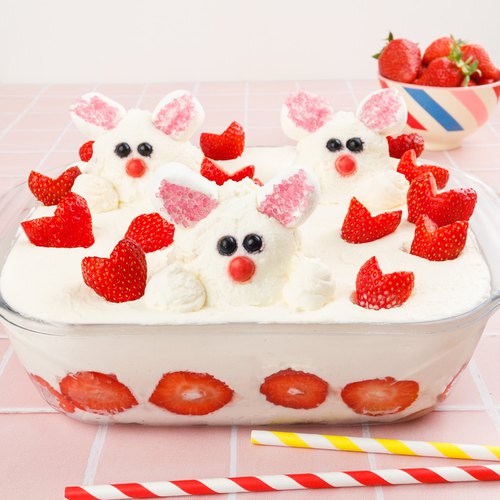 Bunny Tiramisu
Bunny Tiramisu! So fluffy and delicious! 😍🐰🍰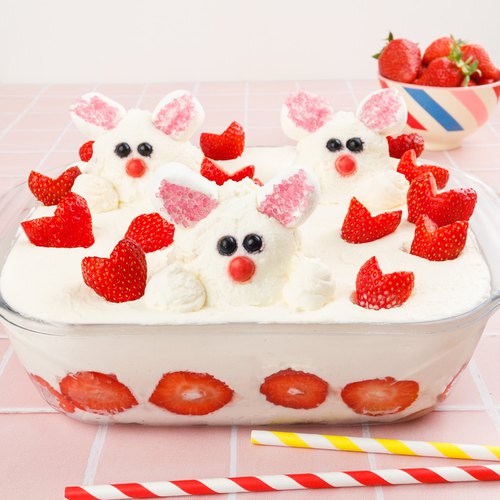 ---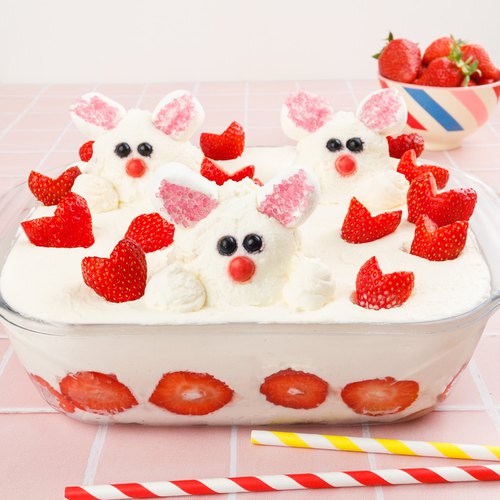 ---
Total time: 35 minutes
Prep time: 35 minutes
Ingredients for 6 people
9 oz of mascarpone
1/2 cup of powdered sugar
1 1/4 cups of heavy cream
1 cup of strawberries
16 ladyfingers
3 chocolate eggs
3 tbsp of chocolate hazelnut spread
3 marshmallows
3 chocolate candy balls
Pink sugar
3 jordan almonds
---
Step 1/4
Whisk the mascarpone, powdered sugar and heavy cream. Mix 10 strawberries with 1 small glass of water to make juice. Dip 8 ladyfingers in the strawberry juice then place them at the bottom of a baking dish.
Step 2/4
Cut 5 strawberries into thin slices and place on the sides of the dish. Cover the ladyfingers with a layer of whipped cream then place another 8 ladyfingers soaked in strawberry juice on top. Cover with whipped cream to the top of the dish.
Step 3/4
Open the chocolate eggs and add the chocolate spread inside. Close. Press into the whipped cream and make 2 small balls in front of the eggs to create the rabbits' legs. Cover the eggs with whipped cream.
Step 4/4
Cut the marshmallows in 2 and dip the inner part in pink sugar. Place 2 halves on each egg, the part with sugar towards the legs to form the ears of the rabbits. Form the nose with a candy and the eyes with chocolate balls on the egg. Cut the remaining strawberries into hearts, arrange them on the tiramisu and enjoy!