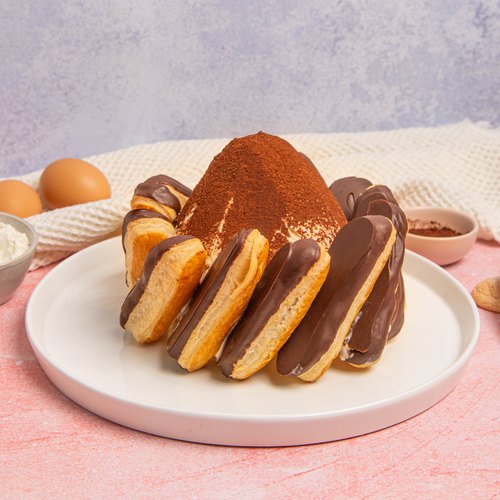 The Tiramisu Volcano
The Tiramisu Volcano! You're going to lava this 🤤🌋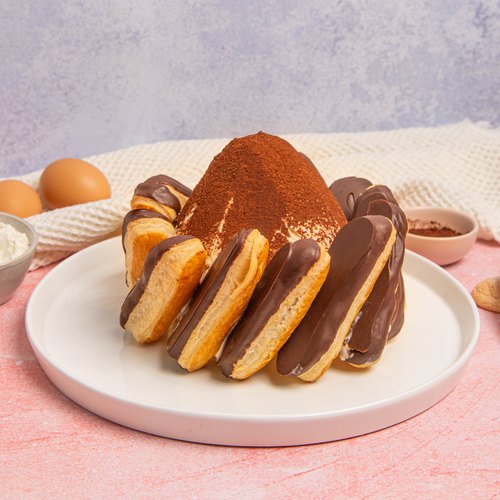 ---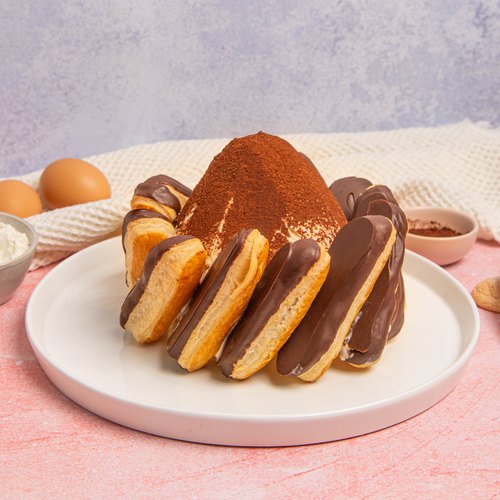 ---
Total time: 2 hours 25 minutes
Prep time: 45 minutes, Cook time: 20 minutes, Rest time: 1 hour 20 minutes
Ingredients for 4 people
1 puff pastry
8 ladyfingers
1 egg yolk
2 scoops of chefclub vanilla ice cream
1 1/4 cups of coffee
7 oz of dark chocolate
2 tbsp of mascarpone
2 tbsp of powdered sugar
1 cup of heavy cream
1 tbsp of cocoa powder
---
Tools
Cling wrap
Plastic sheet protector
Straw
---
Step 1/4
Cut the outline of 12 ladyfingers on the puff pastry and a circle about 2 inch in diameter. Mix the egg yolk and 1 tablespoon of water, brush the puff pastry then bake for 20 minutes at 350°F.
Step 2/4
Dip the ladyfingers in biscuits in 0.8 cup of coffee. Line a small bowl with cling wrap, add 1 scoop of vanilla ice cream and press down. Cover with 2 ladyfingers soaked in coffee, a scoop of ice cream, then another 3 ladyfingers soaked in coffee. Freeze for 1 hour.
Step 3/4
Cut open a plastic sheet protector and lay it out on the work surface. Dip 1 side of the 12 puff pastry biscuits in the melted dark chocolate and place them on the plastic sheet protector. Refrigerate for 20 minutes.
Step 4/4
Whip the mascarpone, powdered sugar and heavy cream togerther. Place in the fridge. Place the circle of puff pastry in the center of a plate and flatten it. Place the ice cream sphere on top (rounded side down). Spread some whipped cream on top and place the rest of the coffee-soaked ladyfingers. Cover everything with whipped cream, forming a triangle and sprinkle with cocoa powder. Glue the puff pastry biscuits all around, forming a flower. Make a hole in the center of the dome with a straw and pour 7 tbsp of hot coffee into it. Serve and enjoy!