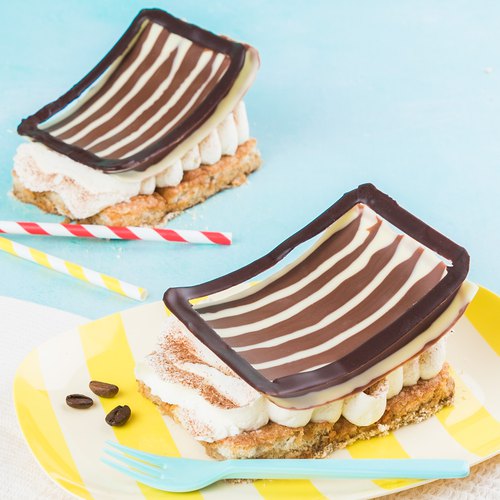 Beach Chair Tiramisu
Beach Chair Tiramisu! Warm up with this dessert 😋🏖️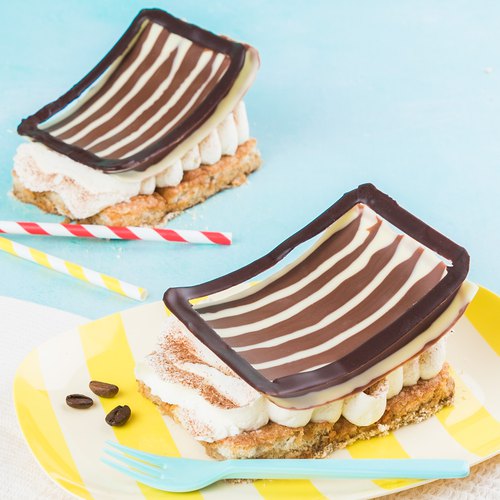 ---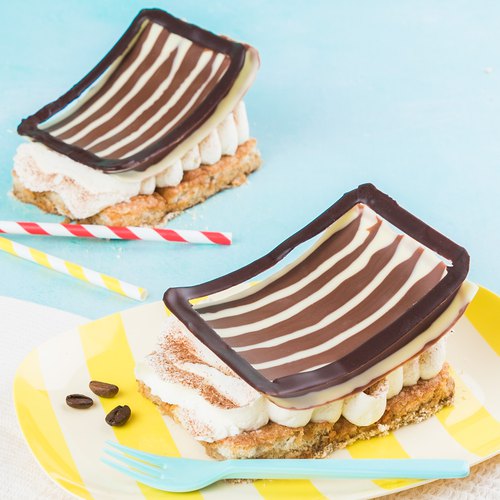 ---
Total time: 2 hours 10 minutes
Prep time: 1 hour 5 minutes, Rest time: 1 hour 5 minutes
Ingredients for 3 people
1 3/4 oz of milk chocolate
5.3 oz of white chocolate
1 3/4 oz of dark chocolate
15 ladyfinger cookies
4/5 cup of coffee
1 1/4 cups of heavy cream
5 1/4 oz of mascarpone
1 tbsp of cocoa powder
Pink food coloring
---
Tools
parchment paper
Plastic sheet protector
Piping bag
Cookie cutter
---
Step 1/4
Melt the milk chocolate and 1.75 oz of white chocolate. Make cones with parchment paper and pour each melted chocolate the cones. Trace a rectangle of melted milk chocolate on a plastic sheet protector. Fill the rectangle by drawing lines of chocolate, alternating milk chocolate and melted white chocolate. Place the plastic sheet protector in a glass to give a rounded shape to the rectangle and refrigerate it for 20 minutes. Repeat the process to have 3.
Step 2/4
Melt the dark chocolate. Cut a rectangle out of a plastic sheet protector. Hollow out the inside to obtain a rectangular frame, pour the melted dark chocolate onto the plastic frame and smooth the melted dark chocolate with a spatula. Carefully unmold the transparent frame from the melted chocolate and refrigerate it for 30 minutes. Repeat the process to have 3.
Step 3/4
Soak the ladyfingers in coffee. Arrange them in 4 rows on a baking sheet lined with parchment paper and cut out 3 rectangles and 3 circles using a rectangular cookie cutter and a circular cookie cutter. Cut a small circle in the center of the ladyfingers circles, unmold the ladyfinger circles and rectangles. Refrigerate for 15 minutes. Whip the heavy cream and mascarpone, place the whipped cream in a piping bag and set aside. Melt the rest of the white chocolate, add the pink natural coloring and mix to obtain a pink chocolate. Cover ladyfingers circles with pink chocolate to form lifebuoys.
Step 4/4
Grate the rest of the ladyfingers on a plate to form the sand. Arrange the rectangles of ladyfingers, pipe the whipped cream over the rectangles and sprinkle with cocoa powder. Arrange the rounded rectangles of milk and white chocolate on the whipped cream then place the dark chocolate frame on top. Arrange the pink buoys and enjoy!