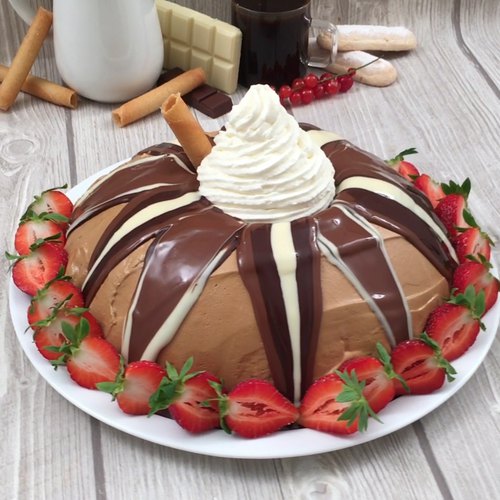 Dalgona Tiramisu
Just when you through this internet trend couldn't get any sweeter! ☕️🎂❤️🥤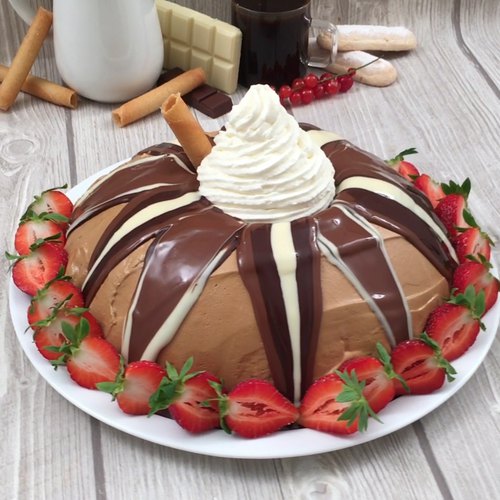 ---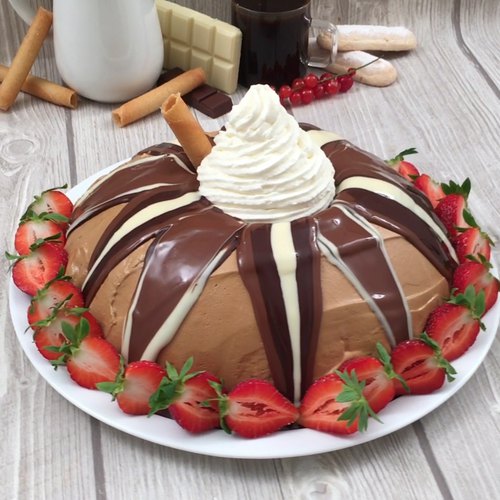 ---
Ingredients for 8 people
lady finger cookies
1 cup of coffee
3 cups of heavy whipping cream
2 cups of mascarpone cheese
1/2 cup of condensed milk
1 cup of sugar
1 cup of instant coffee
1 cup of hot water
melted dark chocolate
melted white chocolate
melted milk chocolate
whipped cream
strawberries
---
Tools
Electric mixer
Mixing bowls
Plastic soda bottle
---
Step 1/3
Soak the lady fingers in a bowl of coffee. When they are ready, place a layer of the cookies around the bottom and edges of the inside of a bowl. In a second bowl, whip the heavy whipping cream until soft peaks form. Add the mascarpone cheese and beat until firm peaks form. Gently fold in the condensed milk. Spread the sweet mascarpone cream onto the cookies. Then cover with another layer of cookies followed by more cream and finishing with a layer of cookies. Refrigerate until firm.
Step 2/3
In another mixing bowl, whip together the sugar, coffee, and water to make dalgona coffee cream. When the ladyfingers are ready, flip upside down onto a plate. Spread the dalgona cream over the cake completely covering the lady fingers.
Step 3/3
Cut off the bottom end of the bottle. Place it on the top of the cake, bottom side facing up. Slowly pour dark chocolate in the center of the bottle allowing the chocolate to spill down the indentions of the bottle and along the sides of the cake. Repeat and overlap with the white chocolate and milk chocolate. Turn the bottle and repeat starting with milk chocolate, then dark chocolate and finally, white chocolate. Remove the bottle and fill in the circle with whipped cream. Decorate with sliced strawberries. Enjoy!